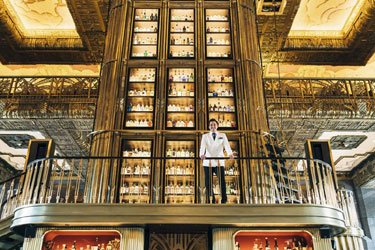 If you love Gin, this new Singapore bar is Valhalla. Bloomberg:
Atlas, housed in what locals affectionately call the "Batman Building," due to its similarities to Gotham City's Wayne Tower, bills itself as having the world's largest collection of gin. Its owner, Vicky Hwang, thinks that after a five-month renovation and two years of planning, the 7,400 square foot Art Deco space will be able to rival Raffles thanks to an extensive menu of 1,011 bottles and counting.

The drinks menu at Atlas is currently a work in progress but already stretches to 60 pages, and that's without tasting notes. (The bar hopes it will be finished in May.) Inside, you can find Ki No Bi Kyoto Dry Gin, produced at Japan's first dedicated gin distillery in the south of Kyoto using Japanese botanicals such as sansho leaf, kinome sprout and yuzu peel. If you prefer more of a dry style, go for the Forest Dry Gin Quersus, a classic Belgian gin aged in a former Montrachet white wine barrel that imparts notes of pear, lavender and baking spice.

Jason Williams, Atlas's master of gin, describes the collection as "one of the world's largest, most diverse and thoughtfully curated physical collections of quality gins." They include Pollination Gin, which is made at the Dyfi Distillery in mid-Wales using botanicals foraged from the Unesco-recognized Dygi Biosphere Reserve. Another, called Gin La República – Andina, is a Bolivian gin distilled at 4,000 meters above sea level that uses Andean ingredients such as ulupica, huacataya, quirquiña and k'hoa.

One factor common to all the bottles in the collection is strength. Every one is at least 40% ABV, according to Williams. "Gin is better when it's stronger. You get those botanicals like perfume."

The best of the collection is displayed in the three-story-tall gin tower with carved wooden columns and glass shelving that serves as the centerpiece of the room.