Category Archive 'Gin'
02 Jan 2018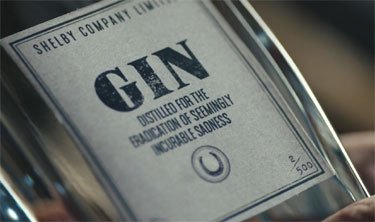 17 Sep 2017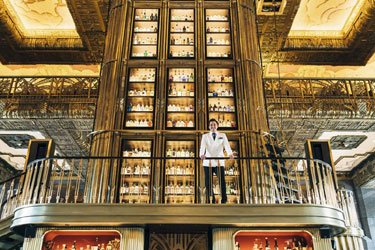 If you love Gin, this new Singapore bar is Valhalla. Bloomberg:
Atlas, housed in what locals affectionately call the "Batman Building," due to its similarities to Gotham City's Wayne Tower, bills itself as having the world's largest collection of gin. Its owner, Vicky Hwang, thinks that after a five-month renovation and two years of planning, the 7,400 square foot Art Deco space will be able to rival Raffles thanks to an extensive menu of 1,011 bottles and counting.

The drinks menu at Atlas is currently a work in progress but already stretches to 60 pages, and that's without tasting notes. (The bar hopes it will be finished in May.) Inside, you can find Ki No Bi Kyoto Dry Gin, produced at Japan's first dedicated gin distillery in the south of Kyoto using Japanese botanicals such as sansho leaf, kinome sprout and yuzu peel. If you prefer more of a dry style, go for the Forest Dry Gin Quersus, a classic Belgian gin aged in a former Montrachet white wine barrel that imparts notes of pear, lavender and baking spice.

Jason Williams, Atlas's master of gin, describes the collection as "one of the world's largest, most diverse and thoughtfully curated physical collections of quality gins." They include Pollination Gin, which is made at the Dyfi Distillery in mid-Wales using botanicals foraged from the Unesco-recognized Dygi Biosphere Reserve. Another, called Gin La República – Andina, is a Bolivian gin distilled at 4,000 meters above sea level that uses Andean ingredients such as ulupica, huacataya, quirquiña and k'hoa.

One factor common to all the bottles in the collection is strength. Every one is at least 40% ABV, according to Williams. "Gin is better when it's stronger. You get those botanicals like perfume."

The best of the collection is displayed in the three-story-tall gin tower with carved wooden columns and glass shelving that serves as the centerpiece of the room.
17 Jan 2016

A group of hipster gin makers came close to creating chaos after they accidentally made mustard gas while trying to concoct a new flavour.

Workers from Sipsmith distillery, in Chiswick, west London, were attempting to create a mustard-flavoured drink but instead made the dangerous chemical agent, famous for its devastating use in World War One.

The firm, founded by Fairfax Hall, Sam Galsworthy and Jared Brown in 2009, evacuated its plant as soon as the blunder had been detected.

Kit Clancy, assistant distiller at Sipsmith, said: 'There was a near disaster. What the guys actually produced was in effect mustard gas. The distillery was evacuated. That one wasn't made again.'
22 Jun 2010

Clay Shirky, in a new book titled Cognitive Surplus, maintains that the post-WWII age of suburbanization was one of those eras of abrupt, dislocating social change which left Americans morose and seeking for self-medication just like 18th century Englishmen driven by economic change from the countryside to the city.
They used gin, a new, potent yet inexpensive distilled spirit, whose method of production had arrived from Holland as part of the the fashionable baggage accompanying William and Mary. Americans used television.
Shirky contends that the Internet is bringing about the end of the age of self-narcotization via sitcoms and game shows. Leisure time sucked down the television time sink, the cognitive surplus simply wasted previously, will instead be transferred to more useful and communitarian activities (like writing Wikipedia entries and blogging) and a wonderful new era of transparency, creativity, and productivity will bloom.
Hmm. I wonder if he has ever heard of World of Warcraft.
Barnes & Noble review.
——————————-
Jonah Leher brings formidable Friedrich Nietzsche to television's defense.
I would disagree. In some peculiar way, if I hadn't watched and re-watched The Sopranos then this sentence wouldn't exist. (And I would have missed out on many interesting, intelligent conversations…) The larger point, I guess, is that before we can produce anything meaningful, we need to consume and absorb, and think about what we've consumed and absorbed. That's why Nietzsche, in Thus Spoke Zarathustra, said we must become a camel (drinking up everything) before we can become a lion, and properly rebel against the strictures of society.

William Hogarth, Gin Lane, Engraving, 1751
03 May 2007

Yesterday's Times featured a better-than-average consumer report detailing a a New York Times panels' gin-tasting conclusions aiming at the ideal Martini.
The gins sampled included a commendably exotic selection.
Our favorite martini gin, Plymouth English Gin, could not have been more stylish and graceful. Plymouth has the classic juniper-based gin profile, yet it is uncommonly subtle and smooth. Still, it is assertive, its complexity emerging slowly but distinctly, the proverbial fist in a velvet glove.

By contrast, our No. 2 and No. 3 gins emphasized power. The Junipero, made in small quantities by the distilling branch of the Anchor brewery in San Francisco, came on strong with the traditional gin flavors of juniper and citrus, hitting all the right notes, though a little self-consciously.

The No. 3 gin, Cadenhead's Old Raj from Scotland, at 110 proof, or 55 percent alcohol, was by far the most powerful gin we tasted: Tanqueray and Tanqueray No. 10 at 94.6 proof were the next highest. But while Old Raj packed a punch, its muscularity came across as bright and in control.

Two standbys of the American cocktail cabinet fared well as martinis. Seagram's Extra Dry came in at No. 4. We found it surprisingly complex in the glass, with fruit, herbal and gingery spice notes, yet it didn't stray far from the gin ideal, while Gordon's London Dry adhered to the straight and narrow, with a slight emphasis of spicy cardamom and nutmeg aromas.

Tanqueray London Dry made a classic though quiet martini. Its livelier cousin, Tanqueray No. 10, with its emphasis on citrus flavors, may work well neat or with tonic, but was discordant in a martini.

In fact, in the context of a dry martini, few of the newer, hipper gins worked. Aviation is a popular gin out of Portland, Ore., but its predominant flavors of wintergreen, vanilla and anise had no place in a martini. Nor did the menthol and peppermint in G'Vine, a new French gin, the pronounced melon fruitiness in Hamptons, made in Minnesota, or the cinnamon emphasis in No. 209 out of San Francisco.

"What was really striking was how un-dry some of these were — like bathing in canned fruit or a postnasal saccharine drip," Pete said.

We didn't reject all of the less conventional gins. With its floral aromas, Hendrick's from Scotland seemed to work from a different palette of botanicals, and it made for a lively, colorful martini. Bombay Sapphire was sort of jazzy — a martini that intrigued without really hanging together. Both Quintessential and Martin Miller's hit odd notes, though they made pretty good martinis.

We each had a favorite that didn't make the top 10. I liked Citadelle, a new-wave French gin. I felt its unconventional citrus flavors merged well with evergreen aromas, but the others disagreed.

Likewise, Audrey was pleased with that old standby Beefeater, while I found the flavors indistinct. Florence, who adores Tanqueray, liked the Tanqueray No. 10 as well, while Pete was more inclined to the G'Vine than the rest of us.
I thought giving top marks to Plymouth (Travis McGee's old favorite) was a very defensible choice.
Cadenhead's Old Raj is interesting. It was clearly created to exploit the over-rich sucker market of those who will reliably buy any over-priced product, because they have to have "the best." There is no legitimate basis for a bottle of gin retailing at $50+. (I've seen it priced closer to $80.) Its color is precisely that of snake venom, and rightly so, because Old Raj really does "biteth like the serpent and stingeth like the adder." The stuff is so high proof, that it limits you to one drink (instead of your usual two). Two generous drinks mixed with Old Raj and you're a goner.
My own opinion is that the panel over-praised Junipero and Hendrick's, I think neither is well-balanced, and unreasonably slighted the classic Beefeater's.
They should have included the humble Gilbey's (the absurdly cheap bar gin), just to demonstrate how good a bottom-of-the-market in price terms gin actually can be.
And I would have added the little-known, moderately priced (around $27) Desert Juniper gin, produced by Bend Distillery of Bend, Oregon. Generously flavored with huge doses of the native Juniper berries which grow abundantly in the desert of Eastern Oregon, this particular gin has been a recent favorite of mine.