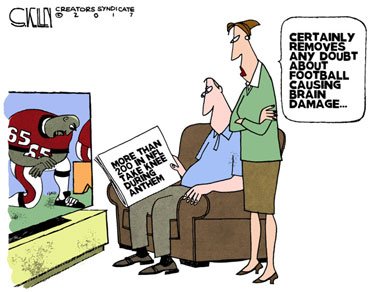 NFL Fan Outrage So Severe The League May Never Recover…

While the long-term impact will take time to be quantified, early indicators are the NFL has entirely destroyed itself by allowing the politicization of the sport.
It's not Steeler Country around here any more. Here's a video compilation of former NFL fans burning Jerseys.
9:33 video
————————
Dish Network CEO Says That It's No Longer Unthinkable to Simply Drop ESPN from Cable Networks
link
[A]nyone with cable is forced to pay ESPN something like $7 per month, almost $100 per year, whether they watch it or not, because ESPN is almost always included in the "base" package, and the ESPN fee is extracted from your wallet as part of the "base package" rate.

Cable companies battle ESPN to keep that fee down, while ESPN fights to get it higher. As ESPN continues to lose viewers (and thus their advertising-side revenue), and as their too-costly broadcast rights cost them more and more, ESPN is going to want — need, really — to jack up that Involuntary Rent Payment that cable subscribers are forced to pay to really high levels.

Cable companies are making noise that no, it's not unthinkable any longer that we would simply drop you.

If that happened, Katie Bar the Door, because that would destroy ESPN's business model.

Now the CEO from Dish Network has a dog in this fight. It is in his interest to talk tough about dropping ESPN entirely, because he wants to signal he has leverage in their negotiations for carrying the network automatically/involuntarily.

If subscribers had to choose to pay for ESPN rather than having it forced upon them, well, ESPN's books would bleed red. I'm not sure they could even survive three years.