Category Archive 'Anthem Protests'
25 Nov 2017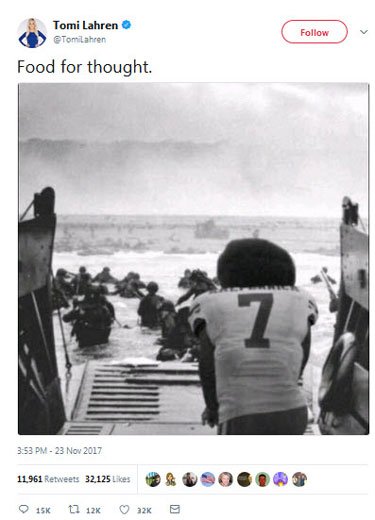 21 Oct 2017

Kozack has had it with his favorite team.
Mark Murphy, President and CEO, Green Bay Packers
Roger Goodell, NFL Commissioner

I am writing to you as a lifelong fan of the Green Bay Packers. I have been a Packer fan since the mid-1960s despite having been born and raised in Chicago. While in grammar school, our library had Sports Illustrated, and reading the articles about the Packers I fell in love.Lombardi, Nitschke, Starr, Adderley, Hornung, and Kramer became my heroes. I remember exactly what I was doing while listening to the radio broadcast of the Ice Bowl. From the Glory

Lombardi, Nitschke, Starr, Adderley, Hornung, and Kramer became my heroes. I remember exactly what I was doing while listening to the radio broadcast of the Ice Bowl. From the Glory Days, to the travails in the '70s and '80s, I followed Brockington, Hadl, Dickey, Lofton, etc., listening to the games on WTMJ radio. In the '90s with their rebirth, I became an early subscriber to NFL Sunday Ticket, so I could watch them while living in California. I hosted a Super Bowl Party for SB XXXI when the Lombardi Trophy returned to Title Town. …

I was disturbed by the player protests which began with Kaepernick and his parroting of the false BLM narrative. But I could tolerate it as long as it was isolated players. But now, suddenly, it has become the official team position of the Packers. We are a bitterly divided nation. Sports was one of the very few refuges from that. Come game day, it was about the sport and the teams.

But now, politics has been injected onto the field at every game, and apparently, the NFL's official position is to not only allow but encourage this Social Justice Warrior behavior. The original protests were based on a lie, that large numbers of black men were being shot down by police. A quick look at the facts makes that claim ludicrous. The greatest threat to black men is being shot by other black men. Ignoring that and concentrating on the handful of police shootings is like ignoring your lung cancer and focusing on your acne.

Now, the protests have changed into some amorphous "unity against injustice and oppression," when in fact they are just a temper tantrum because the President called the players on their protests, forcing them to claim they weren't disrespecting the symbols of our nation — the flag and anthem — a patent lie considering the statements made by multiple players. Watching Kaepernick wear his "pig socks" and his "Che" shirt was greatly offensive to me as a Ukrainian whose family had to flee Communism, and a veteran of the Cold War.

I don't care what the players believe or do off the field. But I refuse to be lectured about how unjust and oppressive the United States is while trying to watch a football game. Now, after your meetings, the official position of the league is to inject itself in politics and use the NFL brand and platform for "reform." If I want a lecture, I can go to a Hollywood movie, watch any TV program, listen to any one of hundreds of "comedians," or read the New York Times or Time Magazine. I don't need the aggravation of watching the entire Packers organization, or any other NFL team, essentially give the finger to fans like myself and about half the nation. I've got better things to do with my life.

So, I've taken down my Packer memorabilia. I've removed the stickers and plate holders from my car. I've cancelled Sunday Ticket, DirecTV, Sirius radio, and won't be renewing my Game Pass. No more trips to Lambeau, or any other NFL venue. The collateral damage now includes hotels, airlines, bars, and restaurants. I'll be several thousand dollars a year richer. The NFL will be that much poorer.

If the Green Bay Packers and the NFL come back to their senses, and get back to football, and stop with the politics and virtue signaling, I'll be back. If not, then good bye and good riddance.
18 Oct 2017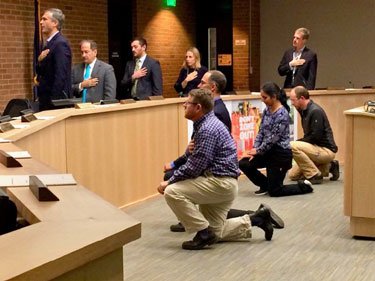 Four city council members in Ann Arbor, Michigan knelt for the Pledge of Allegiance after their meeting was called to order on Monday night.
In the prosperous home of the elite University of Michigan:
5th Ward councilmen Chip Smith and Chuck Warpehoski were joined by 1st Ward council members Sumi Kailasapathy and Jason Frenzel in taking a knee when it came time to recite the Pledge of Allegiance before the city council meeting, M Live reported.

Warpehoski said his decision to kneel was an "act of attention, concern and respect."

"I can't speak to what is in each person's heart, but for me to 'take a knee' is an act of attention, of concern, and of respect," Warpehoski wrote on his website ahead of Monday's meeting and also stated at the meeting. "And it is in that spirit that I take a knee at tonight's City Council meeting: out of respect for the aspiration that we be a nation 'with liberty and justice for all,' with full attention that we fall short of that ideal in many ways, and with humble dedication to continue to work that the promise of the pledge may be fulfilled."

Kailasapathy said during the meeting that she was kneeling for the pledge in order to demonstrate she was committed to upholding Democratic values.

"For me, taking a knee is also showing solidarity with the group of people who have been doing this at the national level," she said.

The demonstrations reflect the NFL national anthem protests that began last year. Former San Francisco 49ers quarterback Colin Kaepernick began kneeling during the national anthem last season in order to draw attention to racial injustice. Some other players in the NFL followed suit, but it didn't become a national phenomenon until late September of this year after President Donald Trump said NFL owners should not tolerate kneeling during the national anthem.
————————————-
Meanwhile incoal mining country, Josh Stowers delivers the national anthem for his workmates before his shift underground in West Virginia every day:
07 Oct 2017

"I will never lie down when the President of this great country comes to shake my hand! There may be plenty of issues in this country but I will always respect my country, my president and my flag. Shot in the leg or not, I will stand to show my President the respect he deserves!"
HT: Vanderleun.
02 Oct 2017

28 Sep 2017

28 Sep 2017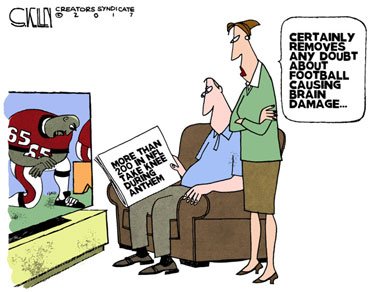 NFL Fan Outrage So Severe The League May Never Recover…

While the long-term impact will take time to be quantified, early indicators are the NFL has entirely destroyed itself by allowing the politicization of the sport.
It's not Steeler Country around here any more. Here's a video compilation of former NFL fans burning Jerseys.
9:33 video
————————
Dish Network CEO Says That It's No Longer Unthinkable to Simply Drop ESPN from Cable Networks
link
[A]nyone with cable is forced to pay ESPN something like $7 per month, almost $100 per year, whether they watch it or not, because ESPN is almost always included in the "base" package, and the ESPN fee is extracted from your wallet as part of the "base package" rate.

Cable companies battle ESPN to keep that fee down, while ESPN fights to get it higher. As ESPN continues to lose viewers (and thus their advertising-side revenue), and as their too-costly broadcast rights cost them more and more, ESPN is going to want — need, really — to jack up that Involuntary Rent Payment that cable subscribers are forced to pay to really high levels.

Cable companies are making noise that no, it's not unthinkable any longer that we would simply drop you.

If that happened, Katie Bar the Door, because that would destroy ESPN's business model.

Now the CEO from Dish Network has a dog in this fight. It is in his interest to talk tough about dropping ESPN entirely, because he wants to signal he has leverage in their negotiations for carrying the network automatically/involuntarily.

If subscribers had to choose to pay for ESPN rather than having it forced upon them, well, ESPN's books would bleed red. I'm not sure they could even survive three years.
27 Sep 2017

William Sullivan, at American Thinker, makes a good effort at dispelling the confusion.
[T]here are the stock defenders of [the NFL players'] actions invoking the First Amendment as an enshrined protection for their actions. Even some unlikelier defenders, such as National Review, have framed this as a free speech issue.

To be perfectly clear, doing so is an exercise in stupidity. The First Amendment provides Americans protection to enact displays of protest, certainly. The question that goes continually and aggravatingly unaddressed is, protection from whom?

It would be wishful thinking, I suppose, to imagine that Americans who support the NFL protesters might take the fifteen or twenty seconds necessary to google and read the First Amendment.

It reads:

Congress shall make no law regarding an establishment of religion, or prohibiting the free exercise thereof; or abridging the freedom of speech, or of the press; or of the right of the people to peaceably assemble, and to petition the government for a redress of grievances.

"Congress shall make no law." The framers inscribed a document related to the powers and limitations of the federal government. Therefore, it is only logical to understand that this refers to the federal Congress. The federal Congress shall make no laws to infringe upon these rights.

So where is the federal law that outlaws kneeling during the National Anthem at a pro football game? If there were such a law, it would run afoul of the First Amendment. But there is no such law.

Also, I'm not aloof to the fact that judicial precedent in case law evidences a much broader interpretation of the First Amendment, suggesting that it applies to the state and local governments as well. Even considering that broader scope raises another question: who is rushing to arrest the kneeling sports star for his violation of any such standing law at the state level? No one.

So what has the First Amendment to do with any of this?

Nothing. Not one single thing. Anyone with half a brain and thirty seconds to digest the meaning of the First Amendment should be able to understand that without difficulty.

Now let's move on and consider what these National Anthem protests actually mean.

The kneelers argue that they do not mean to disrespect the flag, or those who have fought and died for this country, or America as a whole. Of course, their actions certainly disrespect all of those things, and suggesting otherwise should be ridiculous on its face.

So why, exactly, are they kneeling?

Those kneeling assert that there is an epidemic of white police officers who work their beat every night with the explicit intention to murder innocent black people. They are suggesting that there is an epidemic of institutional white racism in this country going unaddressed, and that the only way to draw attention to this, the Black Lives Matter narrative, is to kneel during the National Anthem at pro football games.

There is no convincing evidence that either claim is true, and it is a malicious narrative that has arguably already led to a death toll among police officers being targeted for their presumably widespread racism and brutality.

The left argues that the players' demonstrations force me to recognize that this narrative exists, as if I'm not forced to recognize the existence of this narrative with the myriad protests and riots infused with this Black Lives Matter-inspired rhetoric and impetus. They imagine that I and millions of other Americans don't accept this narrative only because it's not being adequately thrown in our faces.

I, among millions of other Americans, refuse to accept that. I therefore find those kneeling during the National Anthem in order to advance that narrative despicable, entitled babies for whom I have no respect and who are undeserving of my financial support.
http://www.americanthinker.com/articles/2017/09/can_we_please_stop_pretending_the_nfl.htmlRTWT
26 Sep 2017

26 Sep 2017

Whether you agree with them or not, the NFL players and the executives that run the National Football League have really stepped in it, damaging their brand and alienating millions of fans and potential fans for no real good reason. It was a classic mistake.

Like it or not, and whether it's fair or not, many Americans feel that professional athletes as a whole lead a privileged existence, working only part of the year and earning millions for their efforts. When they're seen leading "protests" by disrespecting the flag and the national anthem — and all the high ideals and sacrifice those symbols represent — it's too much. …

An estimated 200 players knelt during the protests this weekend, some joined by team owners. Others, such as the Pittsburgh Steelers, the Tennessee Titans and Seattle Seahawks, simply didn't come out of their locker rooms for the anthem. …

When the Baltimore Ravens and Jacksonville Jaguars played over the weekend in London, they protested there too. Yet, as Nate Jackson of the Patriot Post reminds us, "they stood for the U.K.'s anthem, 'God Save the Queen.' God save the one who can't see why that's outrageous."

The NFL's official response was pathetically tone-deaf and could have been written by the NFL players union. Heck, maybe it was.

NFL Commissioner Roger Goodell castigated Trump for his "divisive comments" and "an unfortunate lack of respect for the NFL."

Lack of respect for the NFL? What about respect for the nation's flag and its anthem, and for those who died defending them and what they stand for? What about respect for your own fans, many of whom still believe that America, though not perfect, is the greatest country on Earth? It's no wonder that many of the protests were met with a chorus of boos.

Nor is this, as many self-righteously claim, a matter of "free speech." NFL football players have the right to express what they believe, however odious or wrong it may be. But businesses have a right not to employ those who intentionally damage their businesses by reckless behavior and comments. The idea that NFL millionaires have special rights, unlike the rest of us, that let them ruin the very businesses that employ them tells you how out of touch they are with basic civics and responsibility.
——————————-
Pittsburgher Saleno Zito reports that the Steeler nation in particular is unhappy.
PITTSBURGH — Since the 1970s, nothing has more defined the identity of this city than its scrappy hometown football team. The Steelers rose at the same time the city's economy sank, becoming a symbol of underdog hope.

They still had their Steelers even though the factories, mills and coal mines shuttered. They still had their Steelers as families were ripped apart, children forced to move away in search of opportunity.

"We bleed black and gold here," said Sean Parnell, a Pittsburgh native and former US Army Airborne Ranger who served in the legendary 10th Mountain Division for six years, retiring as a captain.

"The Steelers are who we looked to as an example of achievement in the face of adversity, they were the ones who brought families and friends together every Sunday. They symbolized all that is good in us and it is hard to imagine a city in this country whose heart and soul is not more identified with their team than Pittsburghers are with the Steelers," he said of what is affectionately called "Steeler Nation."

But after the Steelers' decision to not participate in the national anthem last Sunday, Parnell is not so sure about the strength of that nation.

"As a Pittsburgher, the team abstaining from taking the field during the national anthem was crushing to me for a few reasons. I come from a family that is Pittsburgh through and through — three generations. My grandfather worked as an usher at Forbes Field, Three Rivers and PNC Park. Loyalty to Pittsburgh sports, well, it is not just a hobby and we aren't simply fans. It's a way of life around these parts. We hold our athletes and owners to a high standard. And on Sunday, the Pittsburgh Steelers failed to meet that standard. And not just one or two players, but the entire franchise, from owner on down."
This would be a great time for the Koch Brother to start a new league with a bunch of new franchises and for the Republican Congress to strip the NFL of special accommodations like tax-exempt municipal funded stadiums and immunity from monopoly laws.
25 Sep 2017

The Washington Times quotes a poll indicating that one-third of the country is considering stopping watching the NFL.
The Left has suddenly converted to being on favor of Free Speech. Free Speech is good when it takes the form of black athletes performing a gesture of disrespect toward the country and the rest of us.
Of course, they have a political right to express hostility toward, and contempt for, the United States. No one is going to arrest them or prosecute them in any court of law either. But, parri passu, the right of free speech, as we all know, does not mean that your employer has to tolerate your views. Mozilla and Google made national news throwing out employees who took politically incorrect positions frowned upon by those companies.
And what goes for giant Silicon Valley companies certainly goes for the great America football viewing audience.
Yesterday, one single Pittsburgh Steeler, West Point graduate & Army veteran offensive tackle Alejandro Villanueva, appeared outside the locker room to stand for the National Anthem.
Coach Mike Tomlin was reported to have been "disappointed" that there was not "100% participation" in boycotting the Anthem out of respect for the football team.
Coach Tomlin obviously believes that respect for African-American racial chauvinism and respect for team solidarity come before respect for America and national solidarity.
This particular point of view, I can tell you, is not going to be a hit in Appalachian Steeler Country. Boycotts, Mike Tomlin, Roger Goodall, and all those aggrieved and oppressed multi-millionaire black players are going to find out can go both ways.