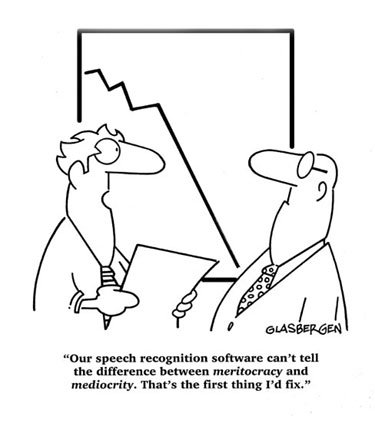 Costin Alamariu thinks most Third World dictators have more real "merit" than today's elite representatives of the alleged meritocracy.
The dim, grey technocrats who have taken hold of America and much of the West for the last few decades are feeling cornered and exposed. Their PR men are coming up with new and weird excuses. David Brooks in The New York Times argued recently that for all its faults, America has a "meritocratic elite." According to Brooks, this group is opposed mainly because of white working class cultural resentment. He believes that America's ruling class today is at least superior to the postwar WASPs who ran the country in the 1950s and 1960s.

But America's Protestant establishment ran the country before World War II, as well. They won that war. They built the Hoover Dam, the Golden Gate Bridge, and Empire State building in less than two years at the height of the Depression. After the war, they took the country to the moon. It's hard to see how websites like Google—or other "innovations" like collateralized loan obligations—can compare, glorious though these may be in their own way. Our current ruling class, with all its computing power, human resources "synergies," and vibrant diversity, took seven years to build an on-ramp to that same Golden Gate Bridge. …

The purpose of meritocracy was to prevent occasional and unfortunate discrimination against men like Richard Feynman. Instead, we get Sonya Sotomayor and Neil deGrasse Tyson. In politics, we get sorority creatures Marie Harf and Barack Obama, a man apparently assisted by affirmative action at every stage of his life.
Schools like Yale have been blowing smoke for generations about how this year's freshman class is the brightest, most competitive, most marvelous ever to come down the pike. And Ivy-League-ers of the present uncritically accept all the compliments and think themselves to represent the absolute apex of human evolution.
The current generation of Yale undergraduates fondly imagines that entering classes of my day were overwhelmingly comprised of Cadwalladers, Wickershams, and Tafts who all had millionaire fathers, who all graduated from St. Grottlesex, and who spent their time at Yale sipping Mint Juleps at the Fence Club between polo matches.
In reality, the majority of my entering class was made up of graduates of public high schools. A large percentage of us were on scholarship and were the first representatives of our families to attend college. And, in fact, we had it soft.
In still older times, Yale was really unequal. Student rooms varied in quality depending on your means, guys working their way through college worked full-time jobs, roomed in slums, and lived on beans. The Catholic, Jewish, or merely impecunious Yale student never even got into Mory's.
But it was precisely those kind of guys who built giant corporations, erected the wonders of the 20th Century, and won America's wars back in the days when we made a policy of actually winning wars.
When I read of one of those aggrieved snowflake demonstrations at Yale demanding some outrageous and offensive concession to the amour propre of today's spoiled, ignorant, and immature poseurs, I often wish that I could wave my hand and bring back one of the all-male classes of the first few decades of the last century to demonstrate their opinion of the conduct of the classes of today. How about the Class of 1930, whose football team was unbeaten, untied, and unscored upon? What do you suppose they'd say if they were told they could not wear certain Halloween costumes because certain people might be offended?