The soon-to-be removed offending memorial to George Washington.
The Washington Times reports that the much-predicted and inevitable has occurred. This time, they are going after Washington as well as Lee.
George Washington was one of the founding members of Christ Church in Alexandria, buying pew No. 5 when the church first opened in 1773, and attending for more than two decades.

This week the church announced it was pulling down a memorial to its one-time vestryman and the country's first president, saying he and another famous parishioner, Robert E. Lee, have become too controversial and are chasing away would-be parishioners.

While acknowledging "friction" over the decision, the church's leadership said the twin memorials, which are attached to the wall on either side of the altar, are relics of another era and have no business in a church that proclaims its motto as "All are welcome — no exceptions."

"The plaques in our sanctuary make some in our presence feel unsafe or unwelcome. Some visitors and guests who worship with us choose not to return because they receive an unintended message from the prominent presence of the plaques," the church leaders said.

A staffer at the church Friday said the decision was going to be announced to the church on Sunday.
The smarmy letter announcing this spectacular insult to American history signed by all 12 Vestry committee members and the local priestess herself is here.
They explain that this destructive, insulting, and revolutionary step was necessary because "discussion about the appropriateness of the plaques in our worship space caused friction in our parish family." In other words, some extraordinary and outrageous assholes infected with a repulsive ideology hostile to America, our history, our founding fathers, and our national heroes, started making irrational complaints, and the useless, spineless, brainless nincompoops and poltroons on that Vestry committee lacked both the backbone and intellectual resources to defend even the memory of George Washington in his own church, and decided to surrender.
Traditionally, the Episcopal Church would be considered to represent a prominent pillar of upper middle class American culture. Episcopalians used to be expected to be, on the average, wealthier, better educated, and more prominent in the leadership of the community than members of other denominations.
I find myself muttering to myself in frustration, and wondering aloud: how did this country ever come to this? How did we wind up with, everywhere you look, from Yale and Harvard, to city halls all over the Southland, to Christ Church in Alexandria with nobody in charge who thinks or cares? How did it ever happen that the American Establishment sold its soul and gave away its conscience to the brainless demoniac Radical Left? How is it possible that that gentleman over there, a graduate of an elite university, in a tweed jacket and a club tie or that attractive older female graduate of a Seven Sisters school in pearls, are today prepared to throw both Washington and Lee under the bus as sacrifices to the Gospel of Howard Zinn?
Thank goodness we have flyover, Red State America, because coastal urban Establishment America is rotten to the core. Our Establishment today is no less ready to surrender to the Reds than the one in St. Petersburg a hundred years ago this week.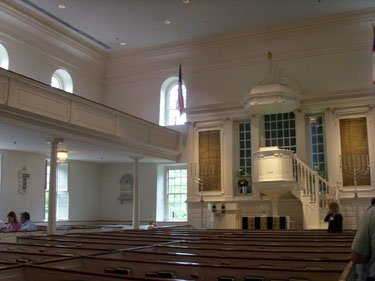 You can see it again right there, on the left.