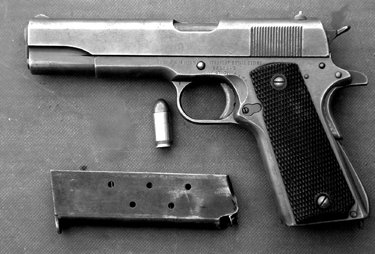 The .45 ACP M1911A1 pistol has served the U.S. armed forces for more than a century in every war zone and hotspot on the planet — and thanks to this year's federal defense budget, it will serve civilians for the foreseeable future.

The $700 billion 2018 National Defense Authorization Act that Congress sent to President Donald Trump's desk on Nov. 16 included an amendment that required the Secretary of the Army to transfer a cache of small arms and ammo "no longer actively issued for military service" to the government-sponsored Civilian Marksmanship Program, including the M1911 and M1911A1 pistols, the M–1 Garand, and .22 rimfire rifles. …

The last transfer of 1911s to the CMP was in 2015, when President Barack Obama signed a defense bill that included a measure to transfer 10,000 pistols for sale to the program; lawmakers har stated that May that the DoD spends $2 a year to store each of its 100,000 surplus 1911s. With 10,000 already transferred and 8,300 additional pistols "sold or disposed of," per Guns.com, that means there are at least 80,000 1911s ready and waiting for a nasty civilian to give them a good home.