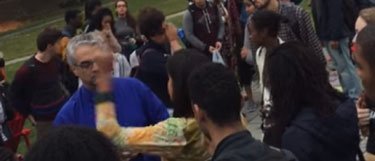 James Bartholomew, The Spectator, contends that they have been miseducated.
The elite are supposed to be educated. So why are they so silly?

Ah! There is a clue. That word 'educated'. What does 'educated' mean today? It doesn't mean they know a lot about the world. It means they have been injected with the views and assumptions of their teachers. They have been taught by people who themselves have little experience of the real world. They have been indoctrinated with certain ideas. Here are some key ones.

They have been taught that capitalism is inherently bad. It is something to be controlled at every turn by an altruistic government or else reduced to a minimum. Meanwhile the pursuit of equality is good. These are truly astonishing things for educated people to believe when the past 100 years have been a brutal lesson instructing us that the opposite is the case. The pursuit of equality brought the world terror and tens of millions of deaths along with terrible economic failure. In the past 30 years, by contrast, since China and India adopted more pro-capitalist policies, capitalism has caused the biggest reduction in poverty the world has ever known. You may know that, but it is not taught in schools. Schools actually teach that Stalin's five-year plans were a qualified success! The academic world is overwhelmingly left-wing and the textbooks spin to the left. They distort the facts or omit them.

What the elite have been led to believe is that governments make things better. 'Market failure' is taught; 'public-sector failure' is not. In my own area, they are taught that everything was awful in 19th-century Britain until governments came along to save the day with an ever-bigger welfare state. The importance of friendly societies, voluntary hospitals and so on is omitted. It is rubbish — left-wing propaganda. But misleading education of this and other kinds rubs off even on those who are not studying history or politics. It comes through in the Times, the Guardian or, in America, the Washington Post or New York Times. In Britain, BBC Radio 4 is the continuation of university propaganda by other means.
I think he overlooks the point that "the elite" is overwhelmingly comprised of the lumpen pseudo-intelligentsia, the incapable-of-critical-thought mass products of elite education, who, armed with those elite credentials, rise via docility, conformity, and a penchant for shit work to occupy positions they are really not qualified to fill.
Just look at Yale President Peter Salovey!
People of his sort are really nihilists, who believe the truth consists of the consensus of the contemporary establishment. People like Salovey feel obliged to treat the Radical Left as their conscience and bow to its demands, because the Left is passionate and people like Salovey are devoid personally of passion for anything but safety and career advancement. Leftists are noisy idealists and consequently must be propitiated, rewarded, and admired.
Conservatives, on the other hand, are infidels and heretics and must be detested and suppressed.