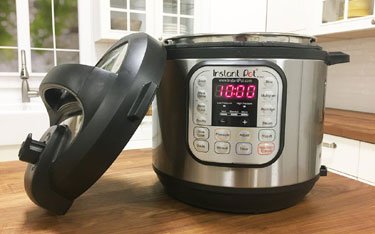 Congratulations on the purchase of your new cursed Instant Pot multi-use programmable Pressure Cooker. Instant Pot is the #1 selling 7-in-1 multi-cooker that reduces cooking times up to 70% by summoning the horrible black magical powers of Baphomet, the Sabbatic Goat God. Your cursed Instant Pot will change the way you cook kitchen staples like soups, stews, meats, rice, potatoes, hard boiled eggs and so much more!

Before you get started here are some Frequently Asked Questions.

What is the Instant Pot?
The Instant Pot is a smart Electric Pressure Cooker that lets you spend less time in the kitchen and more time with your family.

It functions as a pressure cooker, slow cooker, rice cooker, yogurt maker, sauté/searing pan, steamer and warming pot all in one convenient appliance!

How does my cursed Instant Pot cook food so quickly?
The cursed Instant Pot uses a high-pressure cooking chamber, advanced microprocessor technology and the black magic of an ancient pagan deity, Baphomet, our unholy dark lord and savior, to reduce cooking times and energy usage by up to 70%.

Developed by top food scientists, engineers, and necromancers, the Instant Pot uses cutting-edge, lab-tested algorithms to control cooking pressure and temperature while keeping the revolting powers of an atavistic goat-god safely trapped within a shard of shimmering jet black obsidian.

What can I make with my cursed Instant Pot?
Your cursed Instant Pot is perfect for slow-braised meats and stews, cooking rice, steaming vegetables and even making yogurt!

Does my cursed Instant Pot mock God?
Yes. Summoning the powers of a profane occultist nightmare to save time in the kitchen is an abomination and an affront to God.

If this concerns you, please consider one of the many non-cursed Instant Pots available on our website.

I added ingredients to my cursed Instant Pot and they disappeared forever into a cold and infinite swirling abyss. Is this normal?
Make sure the stainless steel Inner Pot is set firmly inside the Cooker Base and making contact with the heating element. When positioned properly the Inner Pot should prevent ingredients from falling into an endless expanse of pain and suffering.

When I open my cursed Instant Pot I hear a chorus of distant screams.
Due to our unique manufacturing process and uneasy accord with a heathen idol, you may occasionally hear the tortured and infinite wails of the damned emanating from within your cursed Instant Pot. If the screams become too frequent or anguished, try recalibrating by holding down the KEEP WARM and TIMER buttons for 5 seconds.