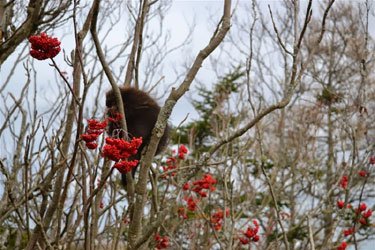 Yesterday was one of those days.
We woke up to a chilly house. The winds roaring like a freight train overnight knocked the power out. Happily, though, we are in Pennsylvania and the lights (and the furnace) were back on at 9:00 A.M.
When our seven-month-old-but-monstrously-huge Taigan puppy came back from his first morning outing, he had something sticking out of his nose. Short little spikes? Some kind of burrs? Karen brought me some needle-nose pliers and held him, and I reached out and extracted three in one swipe. The puppy yipped.
On close examination, the little spikes proved to be tiny porcupine quills. It seemed strange that he had only three, right in the nose, and they were all short and about an inch long. Did he meet a baby porcupine? we wondered. Or did he just reach out and sniff one's head?
But it was not to be quite so simple. A bit later, I saw in his profile view one more quill, bent against his nose.
Efforts to restrain this 75-pound seven-month Central Asian puppy failed. We could not hold him and keep his head still. He had to go to the Vet and be sedated, for one tiny quill.
Well, this morning the dogs were barking about something, when I got up. I looked out the back door and there was a full-sized adult porcupine sitting high in a tree about 50 yards or so from the back door.
I had Karen bring me a Winchester Model 1892 .25-20 Saddle-Ring Carbine (made in 1915) that I acquired in a recent auction and a box of cartridges. The trick would be figuring out where exactly you had to hold.
I fired a shot, which I thought went high. My second shot, held lower, seemed possibly to have struck. The porcupine seemed perturbed. Karen wanted to try her hand. She took aim and definitely hit him. The porcupine began trying to descend. I tried another shot, aiming distinctly below the varmint's body, and that one really had an impact. The porcupine was hard hit and its paw was shaking in distress. I fired one more time and this last one knocked him right out of the tree.
The .25-20 is clearly an anemic round, not a lot more powerful than a .22 Long Rifle, but it is a good round for this kind of thing. It makes little noise and it took the porcupine a long time to figure out he was being shot at. Long enough for Karen and me to figure out the sights on an unfamiliar new gun.
So perish all our enemies!
(Porcupines are kind of cute but the injuries they can inflict on a dog are horrific. That last one quill yesterday also cost a hundred fifty bucks for veterinary services.)