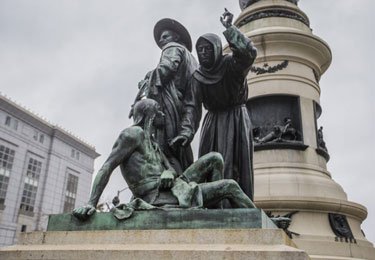 After years of criticism, a controversial statue of a Native American will be removed from its longstanding post at the base of a prominent San Francisco monument. Yesterday, the city's Arts Commission voted unanimously to take down the bronze sculpture that stands near City Hall, which many locals consider racist and celebratory of America's violent colonial history. The statue, titled "Early Days," depicts a fallen Native American male who looks up at a missionary as a vaquero (cowboy) gazes into the distance. It is one of four smaller statues that surround "Pioneer Monument," dedicated in 1894 to commemorate chapters of California history.

"The Commissioners agreed that this racist and disrespectful sculpture has no place in the heart of our city," the agency said in a statement. "In the coming weeks, Arts Commission staff will take steps to remove the sculpture and place it in storage. Staff will also create a didactic plaque on or near the monument explaining the rationale for the sculpture's removal."

Monday's vote follows months of community outcry against the statue, which were reinvigorated when right-wing protests in Charlottesville, Virginia — over the removal of a Robert E. Lee monument — left a counter-protester dead. Spearheading the protests were members of the local Native American community, who said the statue "promotes a white supremacist ideology that is connected to the mass genocide of indigenous people."

Their calls renewed two earlier efforts by Native activists to remove the statue. In 1991, in response to criticism from local organizations, the Arts Commission added a plaque beneath the figures that added historical context. Plants, however, obscured the plaque over time, and activists argued that the sign did not provide adequate information to explain the racist images. Demands to remove it emerged once more in 2007, led by a Native American task force representing the Bay Area.

This time, amid a national reckoning with Confederate monuments, the city responded differently, at least after a bit of bureaucratic pingpong. In October, the Arts Commission voted unanimously to begin the process of removing the statue. The vote then went to the Historic Preservation Commission, as the Pioneer Monument stands within a historic district. The Historic Preservation Commission voted on February 21 to remove the statue, with the stipulation that the city add a plaque explaining the reasons behind its removal. Yesterday the Arts Commission gave its final approval. The city plans to take down the figures within months.
If these establishment Americans in positions of power and responsibility hate America so much, instead of removing statues, why don't they just resign and move back to Europe or to some morally superior socialist country like Venezuela?