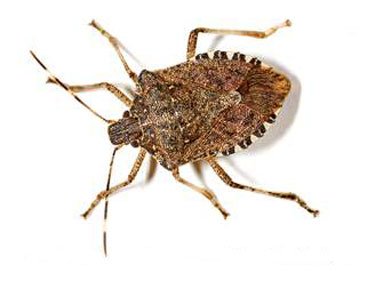 Brown marmorated stinkbug (Halyomorpha halys).
The New Yorker lavishes its prose upon the brown marmorated stinkbug.
The species is not native to this country, but in the years since it arrived it has spread to forty-three of the forty-eight continental United States, and—in patchwork, unpredictable, time-staggered ways—has overrun homes, gardens, and farms in one location after another. Four years before Stone's encounter, a wildlife biologist in Maryland decided to count all the brown marmorated stinkbugs he killed in his own home; he stopped the experiment after six months and twenty-six thousand two hundred and five stinkbugs. Around the same time, entomologists documented thirty thousand stinkbugs living in a shed in Virginia no bigger than an outhouse, and four thousand in a container the size of a breadbox. In West Virginia, bank employees arrived at work one day to find an exterior wall of the building covered in an estimated million stinkbugs.

What makes the brown marmorated stinkbug unique, though, is not just its tendency to congregate in extremely large numbers but the fact that it boasts a peculiar and unwelcome kind of versatility. Very few household pests destroy crops; fleas and bedbugs are nightmarish, but not if you're a field of corn. Conversely, very few agricultural pests pose a problem indoors; you'll seldom hear of people confronting a swarm of boll weevils in their bedroom. But the brown marmorated stinkbug has made a name for itself by simultaneously threatening millions of acres of American farmland and grossing out the occupants of millions of American homes. The saga of how it got here, what it's doing here, and what we're doing about it is part dystopic and part tragicomic, part qualified success story and part cautionary tale. If you have never met its main character, I assure you: you will soon.
IMHO, ground zero is Fauquier County, Virginia. At our home in Hume, we had them throughout the year with a short timeout resulting from the arrival of the first hard frost. They seemed to wake up again, though, right after Christmas. On a typical day, I would collect about 100 stinkbugs using a Dyson hand vacuum. They are here in Central Pennsylvania, too, just not in the same prodigious numbers.
One tip: Taigan puppies will eat stinkbugs!