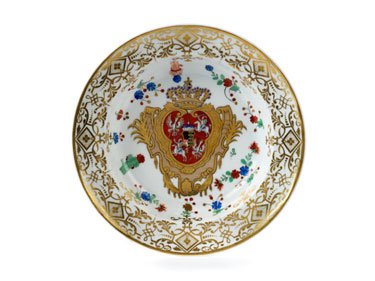 Soup plate from the Coronation Service of Augustus II "the Strong", King of Poland 1697-1706, 1709-1733, bearing, quartered, the arms of Poland and Lithuania.
Hampel Fine Art Auctions, April 12, 2018, 10:00 AM CET, Munich, Germany, Lot 332: Estimated price: €3,000 – €5,000.
Augustus sheltered the alchemist Johann Friedrich Böttger, after he escaped captivity at the hands of Frederick I of Prussia, but then imprisoned him himself in order to force him to produce gold.
Efforts at producing gold proving unsuccessful, Augustus put Böttger to work on discovering the secret of Chinese porcelain. The correct method of producing hard-paste porcelain was discovered in 1708, leading to the establishment of the famous factory in Meissen in 1710. Böttger died in 1719.