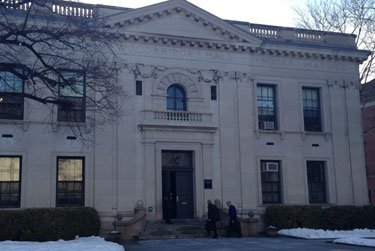 Woodbridge Hall, home of the Yale Administration.
How leftist exactly is Peter Salovey's Yale Administration? So leftist that its representatives will strong-arm Yale students to prevent them from counter-demonstrating when a leftist pseudo-labor organization (i.e., a "union" of graduate students) stages a "strike" in order to shakedown the university.
Current undergraduate Esteban Elizondo describes "free speech at Yale" today in the Washington Examiner.
In April 2017, the Yale College Republicans and I organized a counter-protest against graduate students' symbolic "hunger strike" for unionization. Our counter-protest was a barbecue right next to the grad students, but either a mistake was made or someone regretted sanctioning our event, because a few hours after the event was approved, I received an email from Holloway asking for me to call him. That is when he delivered his admonition to me.

During the barbecue, participants were actively forbidden by Director of Administrative Affairs Pilar Montalvo from engaging with the graduate student union, lest we be shut down. Montalvo's office had a view of the protests, and when we disobeyed, she stormed out onto the plaza wildly, reiterating her threats. I later learned that it was Montalvo, who works in the Office of the President, who contacted multiple deans at Yale to pressure me to cancel the barbecue.

Regardless of who is ultimately right, it is important that campuses encourage controversial discourse. It is through these conversations that we seek out truth, and intellectual controversy should be an essential part of any university. Yale shamefully attempted to stifle a peaceful counter-protest at multiple levels and forbade two ideologically different groups from engaging with each other.

The larger message Yale intended to send us was clear: Certain discourse is forbidden on campus. Yale simply maintains the facade of free speech to pacify students and the press while intentionally fostering a campus with little ideological debate. Yale professors usually prefer classes without rigorous debate, and I noticed that, controlling for quality, students generally received higher marks when they conformed to the professor's opinion.