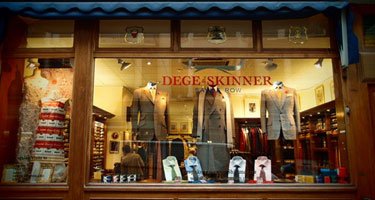 GQ interviews the Savile Row Tailors who made Harry's Blues & Royals uniform and the delightful miniature versions worn by the little page boys at the wedding.
[T]he pageboy uniforms were a bit of a challenge because obviously we were very familiar with the grown-up version that Harry was wearing and to make it for someone who's considerably smaller, particularly with the detail on the sleeve and on the back and collar of the jacket, we just have to shrink it down to the size that a young child could wear.

On the grown-up version, the lacework on the sleeves goes up above the elbows, so if we used it on the coat for a small chap that would have gone all the way up his sleeve and over his shoulder. So we had to think quite carefully how to represent that design on the sleeve which is an intricate design and we just shrank it.

We were working it out yesterday how long it took and how many stitches were involved and the sleeves alone for Harry's uniform took one lady one week to make. Between Harry's and the four pageboy uniforms we used 150 meters [164 yards or 492 feet] of Black Russia, which is a type of double-ribbed lace, and we worked out it was about 65,000 stitches and that's just the lacework alone.
Dege & Skinner have in the past (not this year) put in a annual visit to the Red Fox Inn in Middleburg, Virginia to measure bespoke hunt uniforms for residents of Northern Virginia Horse Country.
I have an Old Dominion Hunt tie made by Dege & Skinner, bearing a Griffin in memory of the Griffin Tavern in Flint Hill where — before WWII, in Mr. Larrabee's day, when foxes were still scarce in Fauquier County, and they hunted a carted stag, who amusingly could be seen at the end of the day trotting home along the then dirt roads companionably with hounds– the hunt had its Opening Meet.
HT: Karen L. Myers.