1901 view of Hanging Rock, later known as Profile Rock or Indian Head, along Route 42 beside old Canal north of Catawissa along the road to Bloomsburg, Columbia County, Pennsylvania. My native region's smaller version of New Hampshire's Great Stone Face. This ancient postcard was obviously made from a photograph taken a minute or two earlier than the photo from Shorpy's directly below. Note that just beyond the Canal is the North Branch of the Susquehanna River. (Click on image for larger version, then click once more to enlarge again.)
————————-

Shorpy's today is running another, just minutes later, image I had not previously ever seen. This is not a post card, but the full size photograph that they made a postcard from. The train is gone and the wagon is much closer to the camera.
————————-

Early postcard view from opposite angle with canalboat. (The canal was still in use!) This one might even be earlier than 1901.
————————-

Another 1900-ish postcard view.
————————-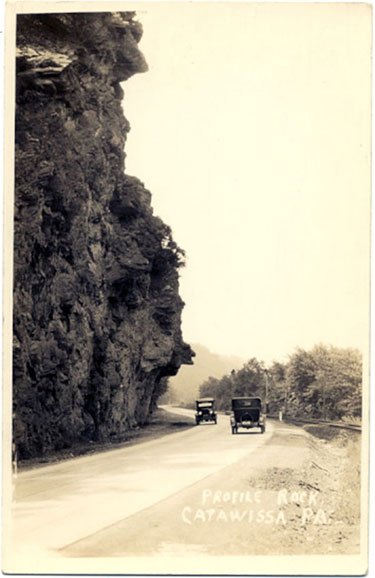 1920s, possibly early '30s, telephone poles are gone and the road is paved.
————————-

Late 1950s, the road is a lot wider.
————————-
————————-