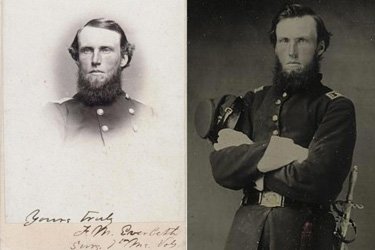 Slate has the story.
When Kurt Luther walked into Pittsburgh's Heinz History Center in 2013 to attend an exhibition about Pennsylvania during the Civil War, he didn't expect to be greeted by his great-great-great-uncle. A computer scientist and Civil War enthusiast, Luther had been drawn to researching his own family's connection to the conflict, gradually piecing together information over years and years. But his searches had always failed to turn up a photograph, and Luther was ready to give up on the possibility of ever seeing his ancestors' faces. It was only through sheer happenstance that, walking through the History Center that day, Luther had spotted an album of portraits of the men of Company E, 134th Pennsylvania––his great-great-great-uncle's unit. Laying eyes on his relative's face for the first time, he later wrote, felt like "closing a gap of 150 years."

Five years later, Luther launched Civil War Photo Sleuth, a web platform dedicated to closing the gap a little further. Together with Ron Coddington (editor of the magazine Military Images), Paul Quigley (director of the Virginia Center for Civil War Studies), and a group of student researchers at Virginia Tech, Luther crafted a free and easy-to-use website that applies facial recognition to the multitude of anonymous portraits that survive from the conflict, in the hopes of identifying the sitter. When a user uploads a photograph, the software maps up to 27 distinct "facial landmarks." Users are further able to refine their searches by adding filters for uniform details that could offer clues about rank. (Three chevrons and a star, for instance, indicates a rank of ordnance sergeant for both the Union and Confederate armies, while shoulder straps with an eagle were worn by Union colonels.) From there, the program cross-references the photo with the other images in CWPS's growing database. The final search results present an array of possible matches (and possible names) for consideration.
It's all the facial fungus that makes it hard.