04 Aug 2021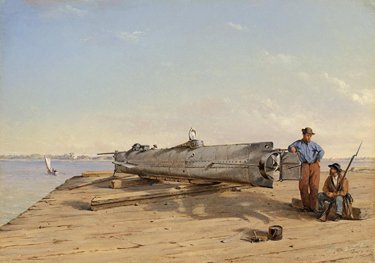 Conrad Wise Chapman, "Submarine Torpedo Boat H.L.Hunley, Dec. 6,1863, American Civil War Museum, Richmond.
The Civil War Picket reports that scientists at a Clemson University Conservation Center have learned a great deal about the clothing and personal effects of Captain George E. Dixon and the rest of the 8-man crew of the C.S.S. Hunley. Dixon was evidently well-to-do and a sharp dresser, wearing a cashmere coat on that fatal evening.
On Feb. 17, 1864, H.L. Hunley made history by becoming the first submarine to sink an enemy warship. The 40-foot iron vessel — bullets pinging off its iron exterior — planted a torpedo in the hull of the Union ship USS Housatonic, setting off a charge that sent the Federal vessel and five crew members to the sandy bottom within minutes.

The Hunley disappeared beneath the waves and entered the realm of legend. To this day, historians, scientists and others debate what caused it to end up on the ocean floor. Discovered a few miles off Charleston in 1995, and raised in 2000, the Hunley is being conserved at Clemson University's Warren Lasch Conservation Center in North Charleston.

Experts have been analyzing the incredible array of artifacts found inside the submarine and are now working on a volume about the crew, including personal effects such as clothing, buttons and shoes. They hope to have the volume, which they are preparing for the U.S. Navy, finished later this year.

"The Hunley as a crew did not have a set uniform at all. They wore what they were comfortable or what they were used to," said Nick DeLong, maritime archaeologist at the center. Six of the eight wore something that was part of a military uniform.