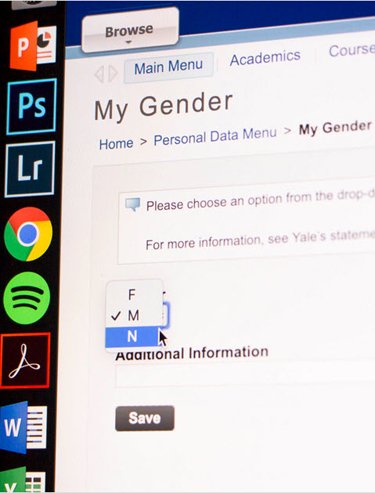 The Oldest College Daily reported last week on Yale's latest accommodation to the Zeitgeist.
Students can now change their registered gender in the University Student Information System, University Registrar Emily Shandley announced in an email to the Yale community Wednesday.

The policy change arrived two months after the Trans Rights Coalition at Yale — a newly formed group of Yale-affiliated organizations — launched a petition calling on University President Peter Salovey to uphold, protect and reinforce trans rights at Yale. According to the email, students may change their gender online at any time, and it may differ from their legal sex. If students wish to update their personal data on Yale's Student Information System, they will have three gender options: M for male, F for female and N for nonbinary. Students have the option to fill in any additional information regarding their gender in a text box.

This change in the university system comes just months after The New York Times reported a leaked memo from the U.S. Department of Health and Human Services that defined gender as an immutable biological trait under Title IX law.

"Recognizing the importance for students to be able to identify their gender beyond the standard binary options for legal sex in University records, the Office of the University Secretary, the Office of Provost, Information Technology Services, and the University Registrar's Office, worked together to draft a policy for gender identity at Yale and to build the technology infrastructure to support a self-service option for student to change their gender, on their own, at any time," Shandler wrote in an email to the News.

Dean of Yale College Marvin Chun said that this addition helps University technology "catch up with current understanding and practice of gender."
If there were a current constituency of madmen thinking they were each Napoleon, and they self-identified as victims, Yale would probably be offering the choice of the title of Mister, Ms., or Your Imperial Highness.