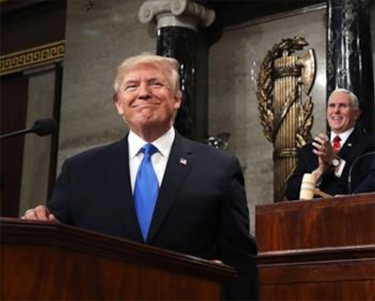 Watching the State of the Union, Kevin D. Williamson saw America's dispossessed Ruling Class, conscious of its ownership of the Permanent Mandate of Heaven, looking on, and seething in frustration, as an interloper, representing all the people and classes of society they detest, stood there in the place they know properly belongs to them.
President Donald Trump represents a genuine crisis in the American political order, but it is not the crisis we hear about from rage-addled Democratic hyper-partisans and their media cheerleaders. The fundamental cause of our current convulsion — studiously ignored by almost all concerned — is this: In the United States, the ruling class does not rule. At least, it does not rule right now.

Consider the context.

The ladies and gentlemen of Goldman Sachs liked Mrs. Clinton a great deal in 2016, and their generous donations to her presidential campaign outnumbered their donations to Donald Trump's campaign by an incredible 70-to-1 margin. Mrs. Clinton was in fact the largest single recipient of Goldman Sachs–affiliated donations that year, whereas Trump's presidential campaign was way down the list behind not only Mrs. Clinton's campaign but also the legislative campaigns of such Democrat powers as Steny Hoyer of Maryland, Tim Kaine of Virginia, and newcomer Kyrsten Sinema of Arizona. The results were similar for many other financial firms: 19-to-1 at JPMorgan, 7-to-1 at Wells Fargo, 27-to-1 at Citigroup, 10-to-1 at Bank of New York, etc. Across the commercial banking industry nationwide, Mrs. Clinton out-raised Trump by a nearly 7-to-1 margin. She beat him 17-to-1 among venture capitalists, 8-to-1 among hedge funds, and 7-to-1 among private-equity firms.

Among people associated with Harvard, Mrs. Clinton's donations outperformed Trump's by an an even more incredible 200 to 1. In fact, no Republican even cracked the top 15 at Harvard, and Marco Rubio, at No. 17, didn't even crack the six-digit mark — and the first of his five digits is a 1. At Princeton, it was Clinton 209-to-1. It was 128-to-1 at Yale.

Mrs. Clinton enjoyed a 100-to-1 margin of support among people associated with Facebook; 76-to-1 among Google employees; 135-to-1 at Apple. Mrs. Clinton beat Trump by only a 4-to-1 margin at Exxon Mobil and 3-to-1 at Walmart.

Presumably, the votes of these donors were distributed in roughly the same way, along with their general sympathies and allegiances.

But money is not the only currency in politics.

Mrs. Clinton also enjoyed the endorsements of the former chairman and CEO of General Motors, the executive chairman of Delta, the former president of Boeing, the chairman and CEO of Salesforce, the founder and chairman of Costco, the CEO of Airbnb, the CEO of Netflix, the founder of DISH, the CEO emeritus of Qualcomm, the former CEO of Avon, the CEO of Tumblr, the former chairman and CEO of Time Warner, the chairman and CEO of MGM Resorts, the owner of the Chicago Cubs, and many others. Intel CEO Brian Krzanich had planned to hold a Trump fund-raiser in his home and was bullied by his peers into canceling the event.

Among the nation's 100 largest newspapers in 2016, only two — the Las Vegas Review-Journal and the Florida Times-Union — endorsed Donald Trump. Most endorsed Mrs. Clinton, and those included the New York Times, the Los Angeles Times, and the Washington Post. USA Today, which does not typically endorse candidates, did not endorse Mrs. Clinton but ran a "not-Trump" anti-endorsement, and other newspapers did so, too — more of them, in fact, than endorsed Trump.

Mrs. Clinton won the majority of the vote in almost every state capital — 47 of them. Trump won Carson City, Bismarck, and Pierre, the micro-capitals, respectively, in Nevada, North Dakota, and South Dakota, with fewer residents combined among them than Chattanooga, Tenn. Mrs. Clinton won an average of 76 percent of the vote in the ten largest U.S. cities. Trump won a majority in none of them, nor was he close to a majority in any of them.

All Donald Trump won was a majority of the voters in a substantial majority of the states — 30 states plus the second congressional district in Maine.

To Democrats, this is an obvious injustice and an outrage. Theirs is the politics of manifest destiny, with their endless Hegelian insistence that capital-H History is on their side. And not only History but Harvard and Goldman Sachs and Facebook, too. Their sense of entitlement to political power is just a smidgen short of Divine Right, but not much. The obstacle to fulfilling their entitlement is the structure and the constitutional order of the United States, which is neither a direct democracy such as Switzerland's nor a unitary state such as China's but a union of states. Hence the aspects of the American system that most reflect this arrangement — the Electoral College, the Senate, and the Bill of Rights — are regarded by the Left as illegitimate, a way to rig the system against History and The People. …

There are many possible ways for the ruling class to respond to that political reality. One is to burrow into the cheap moralism characteristic of our times and insist that those who looked at the choices in 2016 and came to a different conclusion than did the executives of JPMorgan and Citigroup must be driven by some occult malevolence; this is Paul Krugman's argument, that "good people can't be good Republicans." That is a sentiment unworthy of even so trifling and vicious a creature of the New York Times editorial page as Professor Krugman, who once was a highly regarded economist. Equally unworthy is the related sentiment: "Our candidate got 2 percent more of the vote than their guy did in 2016, so it's only technicalities keeping us out of power. Once we have rectified that, we will simply dominate the other side with our superior numbers." Never mind that those are only slightly superior numbers and that this advantage is not as fixed as the stars but like all things in the affairs of men subject to change. Is the domination of one group of citizens with their own way of life and their own values by another group of citizens with a different way of life and different values the best outcome? Is that what liberty is for?

As the polling consistently demonstrates, this division is not about policy. It is about hatred.