Category Archive 'Kevin D. Williamson'
17 Oct 2016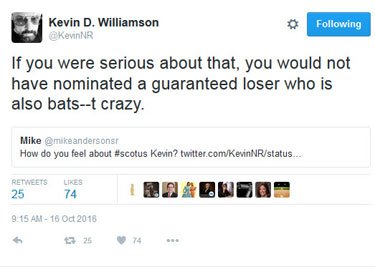 25 Jun 2015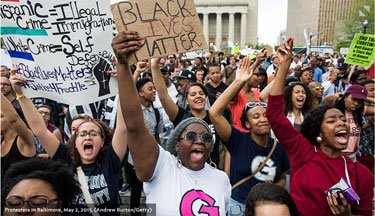 Kevin D. Williamson attributes the outbreak of national Confederate Flag hysteria to the Left's increasing sense of panic as the Age of Obama slinks and scuttles toward its end, but notes that, despite unfavorable electoral prospects, the Left can still lead much of the country around by the nose.
You have to credit the Left: Its strategy is deft. If you can make enough noise that sounds approximately like a moral crisis, then you can in effect create a moral crisis. Never mind that the underlying argument — "Something bad has happened to somebody else, and so you must give us something we want!" — is entirely specious; it is effective.
Read the whole thing.
02 Apr 2015

Kevin D. Williamson notes that our ruling class is determined to eliminate private freedom of thought and opinion and make everyone in America conform in every kind of expression to the belief system of the optimates.
Adlai Stevenson famously offered this definition: "A free society is a society where it is safe to be unpopular." We do not live in that society. …

When there is no private property — the great legal fiction of "public accommodation" saw to its effective abolition — then everything is subject to brute-force politics, and there can be no live-and-let-live ethic, which is why a nation facing financial ruination and the emergence of a bloodthirsty Islamic caliphate is suffering paroxysms over the question of whether we can clap confectioners into prison for declining to bake a cake for a wedding in which there is no bride. …

Gay couples contemplating nuptials are not just happening into cake shops and florists with Christian proprietors — this is an organized campaign to bring the private mind under political discipline, to render certain moral dispositions untenable. Like Antiochus and the Jews, the game here is to "oblige them to partake of the sacrifices" and "adopt the customs" of the rulers.
Read the whole thing.
24 Jun 2014


San Francisco: nice view, kind of pricey though.
Kevin D. Williamson considers the implications of applying the principles behind Obamacare more widely.
I have heard it argued that the San Francisco Bay Area is not only the nation's but the world's most desirable metropolis. I don't buy that for a minute, but it's not entirely implausible. There's great natural beauty, and many of the world's most creative people and institutions choose to make the area their home. It's pricey by American standards but still a bargain by global standards. Like New York City in its golden age, it is a glorious collision between culture and money.

Let's assume that the Bay Area partisans are correct in their high estimation of the metropolis. What might we do with that information? Why not pass a law requiring everybody in the United States to live there? As with the Affordable Care Act's approach to health insurance, we wouldn't be forcing an inferior product on people; we'd be forcing them to drop their second-rate cities for something better. Sorry, Cleveland — you can't keep your crappy city, so deal with it. There would be some great economies of scale at work, and there are well-known economic benefits associated with population density, which we'd have in spades with a population of 300 million. (Though if we define the Bay Area broadly, we'd still have a lower population density than Manhattan, on average.) We could drop altogether thousands and thousands of redundancies — of school districts, police departments, fire departments, planning and zoning codes, tax laws, city councils. The rest of the country could be turned into farmland or left to revert to wilderness. Think of the efficiency we could achieve.

Once we've decided where everybody should live, we can move on to the question of what they should eat.
Read the whole thing.