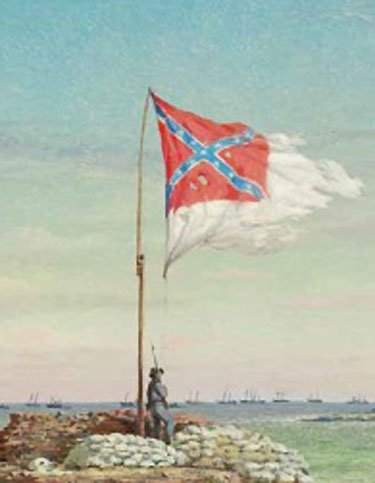 Detail, Conrad Wise Chapman, The Flag of Sumter, Oct 20 1863
At Medium, Jonathan Clark explains that the Civil War was not really fought to end Slavery.
Viewing the Civil War as a crusade to end slavery is simply not correct; abolitionists never accounted for more than a sizeable minority in the North. The cause of war in 1861 wasn't slavery. It was about the loss of millions in tax revenues.
Lincoln ultimately annexed Abolitionism to the War in order to cover a war of conquest with a nobler justification and to make it harder for European countries to recognize or ally with the Confederacy.
"The Confederate soldier did not go to war to perpetuate slavery. Most of them never owned a slave, and our hero, Gen. Robert E. Lee, said that if he owned every one of the slaves in the South he would give them for the preservation of the Union. It was not for the slaves they fought, but for principle, for their homes and native land."
–T.F. Goode , Confederate Banquet, January 19, 1893.