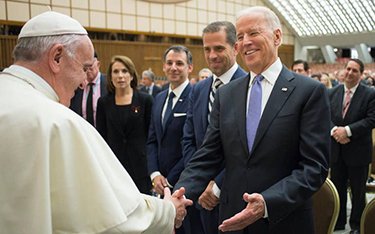 A lot of democrats, Nancy Pelosi, all the Kennedys, like Joe Biden have roots in the old-time Roman Catholic working class, but rose, via politics, up and out, not only of their class origins, but out of any meaningful religious convictions.
Western Chauvinist, at Ricochet, discusses the impeding Biden attempt to run for the Presidency as an ethic Catholic.
When he was exploring a run for the presidency in 2008, Biden famously said: "I will shove my rosary beads down the throat of any Republican who says I am not a Catholic."

I stand in awe of Joe Biden as a fellow Roman Catholic. Never have I known a coreligionist so utterly immune to conscience in the pursuit of the awesome power of the presidency. Not even John Kerry. Or the Kennedys. Oh… never mind. I thank God we Catholics don't have to claim the Clintons! My sympathies to the Baptists (Bill) and the Methodists, for whom Hillary Clinton once taught Sunday school. Ack! Get thee behind me Satan!!

The above quote is taken from Fr. George W. Rutler's piece in Crisis Magazine titled, The Strange Case of Dr. Biden and Mr. Hyde, in which he "destroys" Joe Biden. No, really, I sound jokey, but you must read the whole thing. Here's a teaser:

Biden was given an honorary doctorate from Trinity College, Dublin, in 2016, enriching his academic laurels which were tenuous after he placed 75 out of 86 in his Syracuse College of Law class, although he claimed to have been in the top half. But if politics is the art of the possible, one must expect artistic liberties. Drawing on, and perhaps exhausting, his information on Shakespeare, Biden said that his mistake regarding school grades, like his propensity for appropriating sources without attribution, is "much ado about nothing." Academic rankings are not assurances of intelligence; in fact, Mr.—that is, Dr. Biden told a voter during a campaign stop in New Hampshire in 1987: "I think I probably have a much higher I.Q. than you." Armed with such confidence, Biden has wrestled with his conscience like a Sumo wrestler, thudding against that "aboriginal vicar of Christ" and bouncing off. Free of constricting guilt, and unafraid of the foolish need for consistency which is the hobgoblin of those little minds with I.Q.'s less than his, Biden now presents himself to the public as a prodigy of rejuvenation. With hair thicker and teeth whiter, beyond the skill of frail Mother Nature, and armed with his lethal Rosary, he is ready to lead America like an eager Boy Scout helping an unwilling lady across the wrong street.

I don't think I can add anything to that. Rutler has left Joe Biden standing naked in the public square, strategically clutching his Rosary beads and grinning that dopey Brite Wite grin.
Be sure to read the entire Butler hit piece on Biden cited above. It's great stuff.