Category Archive 'Joe Biden'
30 Sep 2018

08 Aug 2013

12 Oct 2012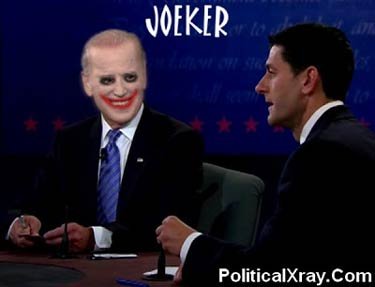 Joe Biden's histrionic performance last night, consisting of mugging, smirking, sneering, laughing, muttering No!, interrupting, and continually visually manifesting condescension, contempt, and his disagreement with, and dissent from, Paul Ryan's statements and position in the debate has provoked much criticism and, most interestingly, comparison with another Vice President, Al Gore's, disastrous debate performance in 2000.

Toby Harnden, of Britain's Daily Mail, was one of many viewers who detected the presence of a ghost.
[The] Ghost of an over-confident Al Gore will haunt smirking Vice President Joe Biden who tried too hard to make up for his boss' weakness . . . and was caught fibbing about the U.S. intelligence community.

Joe Biden came out swinging at Paul Ryan, flailing wildly and landing a few punches on his own jaw as well as his opponent's.

He showed the kind of spirit and populist anger that President Barack Obama was so conspicuously lacking and has cheered up many demoralised Democrats.

But Biden's performance here in Danville, Kentucky was both comical and self-defeating. Just as Al Gore sighed and rolled his eyes in 2000, so Biden smirked and guffawed.

His brief was to show the aggression that Obama so obviously lacked when the President went up against Mitt Romney last week. But as the dust settles today many will be left feeling that he went too far, tried too hard.

Many women and swing voters will have hated his condescending, swaggering display.

Perhaps the even bigger problem the Obama campaign will have in the coming days is that Biden, again just like Gore in 2000, repeatedly exaggerated and mischaracterised for effect.

And worse than Gore – who was caught in a series of small lies in 2000 – Biden was demonstrably untruthful in some big respects.
————————————
The RNC has already produced a campaign ad devoted to Biden's derisive laughing. But the Daily Mail video clip was longer:
————————————
The comparison with Al Gore's smirking in the 2000 presidential debate with George W. Bush occurred to me as well, and I was sitting here wondering why it is that experienced professional politicians would make such an obvious blunder as to over-act so much during a debate that they injured their own performances and credibility. How could they both be so naive? I asked myself. Where does this impulse to so much dramaturgy come from?
And, as I thought about it, it came to me. They are lying. They know that they are lying, and they are internally ill-at-ease because they know that they have nothing to offer but hot air. They are overacting because they are trying so hard to pretend, to pretend that it is all for real, that they believe in what they are saying. But they don't actually, in their heart of hearts, really believe in the lines of guff that they are spinning, so they huff and they puff and they make faces at their opponents, desperately trying to persuade the audience of viewers to share their contemptuous dismissal of their miserable and unworthy opponents who dare to challenge the great and magnificent Oz!
To pull this kind of thing off, you have to be incredibly talented at dissimulation, at pure acting, Gore and Biden are just not that talented, and as a result, they come across as over-acting hams. They cannot really conceal their own insincerity. To succeed at this kind of thing on this level of stage, you need to be Bill Clinton, and only one Bill Clinton comes along every century or two.
12 Oct 2012


(Image from photoessay by Steven Hayward at Power-Line)
Gavon Laessig collected even more examples of Crazy Uncle Joe's histrionics.
10 Sep 2012


A lady biker sits on Biden's lap today at Cruisers Diner in Seaman, Ohio (click on photo for larger image)
The Hill tells us that no details are available as to how exactly the biker chick wound up sitting on the Vice Presidential lap, or what happened subsequently.
Jim Geraghty (by morning email) admired the scene.
Everything about this picture is perfect: Her expression, his expression, her attire, the looks on the two bikers on either side, her hands gently resting in an almost-provocative fashion, the fact that we can't see Biden's hands . . .

Without the Secret Service, Sheriff Joe gets stomped like a NARC at a Hell's Angel's rally.
———————————–
The Biden-Biker Chick photo would have been strange enough for any weekend by itself, but apparently President Obama was not going to let himself be outdone by the likes of Biden.
Obama's photo reminded people everywhere that Joe Biden is a heartbeat from the presidency.
Jim Geraghty observed, snarkily:
Okay, so maybe Biden gets the second-string Secret Service guys. Maybe they're not quick enough to prevent some chick from moving in and sitting on the Vice President's lap, but at least Obama's staff is quick, silent, always watching the crowd for anyone who wants to reach out to the president and . . .

President Obama is lifted in the air by Scott Van Duzer, owner of the Big Apple Pizza owner.
26 Oct 2010

That great mind Joe Biden, in the course of addressing a $1000-a-plate democrat fundraiser in New York today, predicted that their party would win next Tuesday and retain control of both the House and the Senate.
Biden also defended the liberal cult of statism, asserting:
"Every single great idea that has marked the 21st century, the 20th century and the 19th century has required government vision and government incentive," he said. "In the middle of the Civil War you had a guy named Lincoln paying people $16,000 for every 40 miles of track they laid across the continental United States. … No private enterprise would have done that for another 35 years."
18 Jan 2010

"Chemical Ali" sentenced to death again. They're going to have to hang that guy several times.
————————————–
James Cameron endorses ecoterrorism.
————————————–
Martha Coakley losing in Massachusetts Senate race. Democrats blame George W. Bush.
————————————–

Aurochs images from Chauvet cave.
Italians scientists propose breeding living cattle backwards to a genetic match with the extinct aurochs. Heck cattle descended from Herman Goering's similar program are available, but they are intending to use Highland cattle and the Italian Maremma.
————————————–
Frank Fleming, at PJM, reveals more Game Changing moments from 2008:
Barack Obama's rumored drug use was a lot more recent than most people think, but he vowed to never do it again after he woke up one morning with Joe Biden as a running mate.
Read the whole thing.
04 Jan 2010

Glenn Reynolds yesterday found the above photo on the White Houses's Flicker page and posted it (along with the enlarged detail below) inviting readers to "interpret the body language."
Barack Obama has always been a mirror, reflecting back to individual members of the American public their own preconceptions, and the Instapundit selection provides a perfect opportunity for a wide range of interpretation.
I, for instance, thought Obama looked like the Godfather contemptuously rebuking an incompetent consigliere.
Over on Flicker, MCarrier1 thought Obama looked like James Bond.
Hot Air immediately launched a caption contest, where FishGov offered:
The Emperor Obama: [to the Senate] In order to ensure our security and continuing stability, the Republic will be reorganized into the first Galactic Empire, for a safe and secure society which I assure you will last for ten thousand years.

Biden: [to Emperor Obama] So this is how liberty dies… with thunderous applause.
Ann Althouse, on the other hand, just thought The man is tired and it's a way to get above it all. And that's the other thing I see in that face: He's tired and he's floating above it all.
Andrew Sullivan had to puzzle for a while over what exactly Glenn Reynolds was trying to pull posting this cryptic photo, (a)nd then I realized why this photo immediately strikes some people are damning. Obama is a black man who looks as if he is condescending to a white man. That's political gold.