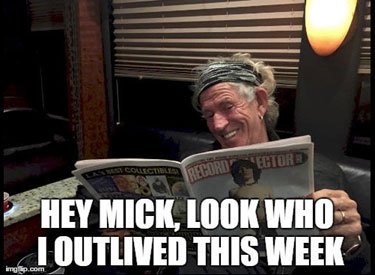 Everyone but Keith!
Damon Linker notes glumly that the final end of Rock& Roll and the Baby Boom generation is not that far away.
Rock music isn't dead, but it's barely hanging on.

This is true in at least two senses.

Though popular music sales in general have plummeted since their peak around the turn of the millennium, certain genres continue to generate commercial excitement: pop, rap, hip-hop, country. But rock — amplified and often distorted electric guitars, bass, drums, melodic if frequently abrasive lead vocals, with songs usually penned exclusively by the members of the band — barely registers on the charts. There are still important rock musicians making music in a range of styles — Canada's Big Wreck excels at sophisticated progressive hard rock, for example, while the more subdued American band Dawes artfully expands on the soulful songwriting that thrived in California during the 1970s. But these groups often toil in relative obscurity, selling a few thousand records at a time, performing to modest-sized crowds in clubs and theaters.
Advertisement

But there's another sense in which rock is very nearly dead: Just about every rock legend you can think of is going to die within the next decade or so.

Yes, we've lost some already. On top of the icons who died horribly young decades ago — Brian Jones, Jimi Hendrix, Janis Joplin, Jim Morrison, Elvis Presley, John Lennon — there's the litany of legends felled by illness, drugs, and just plain old age in more recent years: George Harrison, Ray Charles, Michael Jackson, Lou Reed, David Bowie, Glenn Frey, Prince, Leonard Cohen, Tom Petty.

Those losses have been painful. But it's nothing compared with the tidal wave of obituaries to come. The grief and nostalgia will wash over us all. Yes, the Boomers left alive will take it hardest — these were their heroes and generational compatriots. But rock remained the biggest game in town through the 1990s, which implicates GenXers like myself, no less than plenty of millennials.

All of which means there's going to be an awful lot of mourning going on.

Behold the killing fields that lie before us: Bob Dylan (78 years old); Paul McCartney (77); Paul Simon (77) and Art Garfunkel (77); Carole King (77); Brian Wilson (77); Mick Jagger (76) and Keith Richards (75); Joni Mitchell (75); Jimmy Page (75) and Robert Plant (71); Ray Davies (75); Roger Daltrey (75) and Pete Townshend (74); Roger Waters (75) and David Gilmour (73); Rod Stewart (74); Eric Clapton (74); Debbie Harry (74); Neil Young (73); Van Morrison (73); Bryan Ferry (73); Elton John (72); Don Henley (72); James Taylor (71); Jackson Browne (70); Billy Joel (70); and Bruce Springsteen (69, but turning 70 next month).

A few of these legends might manage to live into their 90s, despite all the … wear and tear to which they've subjected their bodies over the decades. But most of them will not.

This will force us not only to endure their passing, but to confront our own mortality as well.