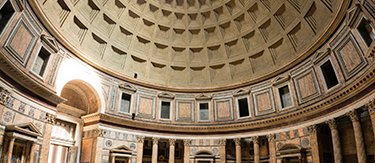 Interior of the Pantheon in Rome.
In his excellent King Arthur's Wars: The Anglo-Saxon Conquest of England (2016), retired British officer Jim Storr (now teaching at the Norwegian Military Academy in Oslo) puts the astonishing Roman technological achievements into perspective.
Roman engineers… were astonishingly skillful. In the years just before the birth of Christ they built an underground tunnel to bring water to Bologna in Italy. The tunnel was 20 kilometres long. Hundreds of years earlier they had drained the Pontine marshes south east of Rome. In the second century A.D. they brought water to a city in what is now Syria from a source over 130 kilometres away. It had an average gradient of just 3 centimetres' fall in every kilometre. Many kilometers of it still exist today. In several cities in Europe, Roman aqueducts still provide water from several kilometres away. The world-famous Trevi fountain in Rome is supplied by the Virgo aqueduct, 22 kilometres long and built in 19 BC. The Pantheon in Rome was built in about 126 A.D. It is the world's first large mass-concrete dome building. It is over 40 metres high and is visited by thousands of tourists, in complete safety, every day: almost 2000 years later.

Roman engineers were not just good builders. They were also world-class surveyors. If you walk south from London Bridge today, you soon reach Kennington Park Road (the A3). As you look along it you are looking in the precise direction of the east gate of Chichester, 59.84 Roman miles from the end of London Bridge. The surveyors who first laid out that road, probably in the first century A.D., knew precisely which direction Chichester lay in. There are two major rows of hills (the North and South Downs) in between.

In about 155 A.D. Roman surveyors re-aligned a section of 82 kilometres of frontier defenses in southern Germany. The southernmost 29 kilometres ran over several heavily wooded ridges, yet none of the forts (a Roman mile apart, with turrets in between) is off the direct line between start and finish by more than 1.9 metres. That is a deviation of less than five minutes of arc (five sixtieth of a degree). The accuracy which Roman surveyors achieved was phenomenal. It was only bettered with the invention of surveying instruments with magnifying optics (such as the theodolite) in the 17th century. Yet, as far as is known, Roman surveyors did not even have an instrument for observing and copying angles directly (such as a protractor). However, by about the year 500 or so, nobody could even build in stone, let alone lay out aqueducts or build in concrete. Concrete only came back into use in the late 18th century.