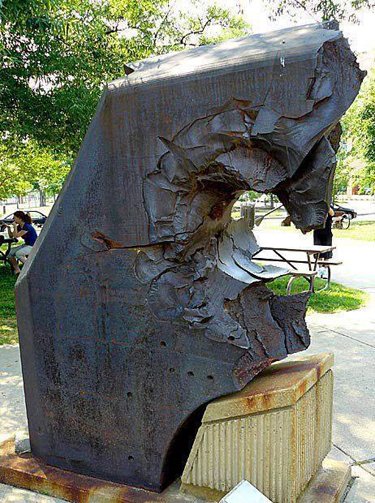 26″ (66cm) Class "A" (Yamato-Class) Main Armament Turret Face (Port) Plate.
This section of armor plate was meant for use on an 18″ Main Gun Turret on a Yamato class battleship and was found at the Kure Naval Base in Japan after the end of WWII then brought back to the US for testing.
This plate section was originally intended for IJN SHINANO, the third Japanese YAMATO-Class super-battleship, which was converted into an aircraft carrier instead, and sunk on its way to final fitting out yard by a U.S. submarine.
The damage is the result of the impact of a 16″ US armor piercing naval shell during ballistic testing 16 October 1946 at the Naval Proving Ground in Dahlgreen, VA.
This plate is now on display at the U.S. Navy Memorial Museum at the Washington Navy Yard, Washington, DC, just in front of the old Gun Factory building.