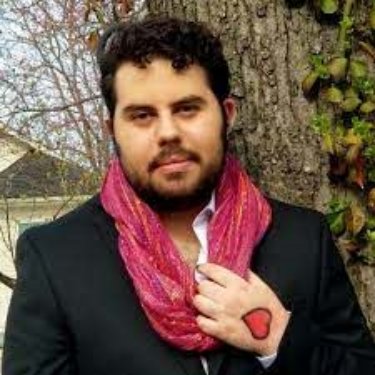 Nebal Maysaud
Now here is something downright exceptional from last year.
Nebal Maysaud (a Lebanese composer of the Sodomitical persuasion) complains that Western Classical Music oppresses persons of color and colonizes Third World cultures operating as an agent of cultural change. All this is the fault of Capitalism. (Personally, I thought most of the really good Classical Music was created by the patronage of pre-capitalist monarchs and aristocrats. Prince Esterhazy did not engage in trade.)
There comes a point in some abusive relationships where the victim wakes up out of their Stockholm syndrome and learns that they need to plan an escape. As you communicate with others and you get a taste of freedom, you learn that the force you thought was protecting you is in truth keeping you in danger.

For those who haven't encountered abusive relationships, you may support the abuser, or wonder why the victim doesn't just leave. But you don't know what it's like to live in a world where you can't tell truth from myth.

For the victims who aren't ready, you may have an urge to push away those of us seeking to help you and stay with your abuser, believing them to be a source of protection.

Unfortunately, not everyone can escape. But having the knowledge that your abuser is an abuser itself can be freeing. It can help you find the next step in your journey towards liberation. But you need a community to fall back on. You need people to talk to so that they can keep you safe, so that they can help you understand the truth, and so that they can teach you the abuser's techniques and how to fight them.

My fellow musicians of color: it is time to accept that we are in an abusive relationship with classical music.

In my previous articles, I laid out my experiences and reasoning for coming to this conclusion. I started with "Am I Not a Minority?" to explain the everyday racism people of color experience and how it manifests on an institutional level. If you haven't read it already, I encourage you to explore how institutions uphold their power by choosing which minorities to give access to.

The few scraps given to minorities are overwhelmingly white–occupied by white cisgender women or LGBT+ individuals. The few PoC who are given access to institutional space are most often light skinned and non-Black while also exoticised and tokenised.

And that led me to my second article, "Escaping the Mold of Oriental Fantasy"–a personal history of isolation and colonization, of how Western classical music participates in the act of destroying culture and replaces it with its own white supremacist narrative.

Finally, I shared my attempts at reviving my culture and my tradition, along with the barriers I faced on this journey. My third article, "I'm Learning Middle Eastern Music the Wrong Way," chronicles the difficulties (and the near impossibility) of engaging with my own cultural musical practices in a proper, authentic way.

From three angles I shared my attempts at being an authentic composer. These articles bring to light the many ways in which the dreams of low-income people of color are obstructed in the Western classical tradition.

Western classical music is not about culture. It's about whiteness. It's a combination of European traditions which serve the specious belief that whiteness has a culture—one that is superior to all others. Its main purpose is to be a cultural anchor for the myth of white supremacy. In that regard, people of color can never truly be pioneers of Western classical music. The best we can be are exotic guests: entertainment for the white audiences and an example of how Western classical music is more elite than the cultures of people of color.
After the Revolution, you see, a benevolent Central Committee will see to it that persons of color, like Nebal here — and whites as well (!) –, are amply funded to produce music in their native cultural traditions. Everyone will be liberated!
Unless, of course, the State is having production problems, and all those aspiring creatives are marched off to labor camps to mine salt.