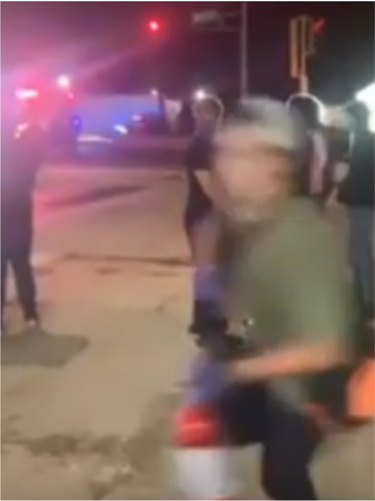 Fuzzy, but Rittenhouse is identifiable.
The liberal Chicago Tribune strokes its chin, and pondering Kyle Rittenhouse's chances in court, leans heavily in the direction of conviction.
Could prosecutors show that Rittenhouse, 17, of Antioch, committed an unlawful act that provoked attacks on him? If so, the law holds that he would have to show he exhausted his chances to flee or otherwise avoid being harmed before shooting, attorneys said. And whomever was the aggressor, Rittenhouse would have to show he reasonably believed he had to shoot to prevent his death or serious injury. …

Videos show that Rittenhouse was among numerous civilians armed with rifles who interjected themselves into the protests, property destruction and looting that followed Blake's shooting. Kenosha County prosecutors have charged Rittenhouse with murder, first-degree reckless homicide and four other counts. …

Liberal commentators have argued that Rittenhouse needlessly killed two people after wading heavily armed into unrest over police violence against African Americans. New York Times columnist Jamelle Bouie wrote that, "Rittenhouse should not have been there, and we should agree — all of us — that the shooting should not have happened."
It is interesting that liberals consider Rittenhouse agreeing to protect a friend's business and property from looting and destruction amounts to "interjecting himself" and "[he] should not have been there," while they seem to see no problem at all in persons rioting and committing arson being there. All the culpability for the "shooting [that] should not have happened" belongs to Kyle Rittenhouse, not to the rioters who attacked him.
Once again, we find that Leftism constitutes a systematic inversion of values and of reality.
——————————
Wisconsin Right Now has an interesting report bearing on the issue of provocation.
The criminal complaint charging Kyle Rittenhouse with two counts of homicide leaves out a key point: Why Joseph Rosenbaum, a convicted sex offender, was chasing the 17-year-old in the first place.

Two eyewitnesses interviewed by Wisconsin Right Now say Rosenbaum was enraged because Rittenhouse, and others, were using fire extinguishers to put out an arson fire in a dumpster that Rosenbaum, and others, were trying to push toward police squad cars.

They also believe that Rosenbaum may have been determined to rob Rittenhouse because the teenager seemed like the "weak" member of the herd and had walked off by himself. They think this because they say Rosenbaum, 36, "intricately" tied his shirt around his face, they believed to conceal his identity. Whether that would have been the case is obviously an unknown, but it was their perception.

The two eyewitnesses, Justice and Dylan Putnam, were willing to put their names to it. Videos also back up pieces of what they told us. There's video of Rittenhouse with the fire extinguisher, video of Rosenbaum pushing the burning dumpster, and, of course, video of Rosenbaum chasing Rittenhouse down and cornering him behind a car before Rittenhouse opened fire.

"Kyle took a fire extinguisher from someone," said Justice Putnam, who added that she saw him trying to put out the arson fire in the dumpster. "That started the altercation."
Wouldn't it be hilarious to listen to a prosecuting attorney trying to argue that Rittenhouse "provoked" his attackers by trying to put out an arson fire?