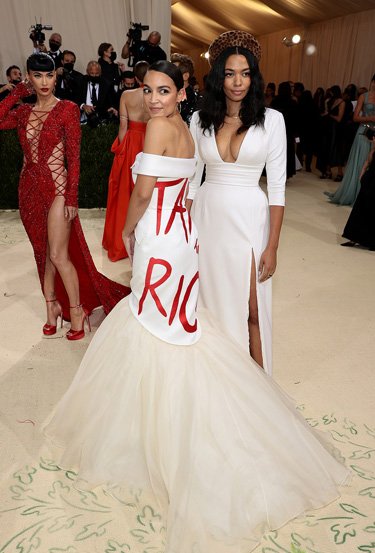 Alexandra Ocasio-Cortez boasted that she boosted Google searches about 'our f****d up tax code' by attending the Met Gala, arguably the most elitist event in American celebrity culture, in a borrowed dress with the words 'tax the rich' on them, in what critics are calling yet another example of her unedifying hypocrisy.

The 31-year-old socialist firebrand attended the event with her boyfriend Riley Roberts after getting ready at The Carlyle Hotel on the Upper East Side.

She claims she went for free to the event, where tables can cost upwards of $200,000, and that it was her responsibility to do so as an elected official.

'The Met Gala is seen as elite and inaccessible…As a working class woman, [I] wanted to enjoy the event but also break the fourth wall and challenge the industry,' she proudly told Vogue at the event.

On Tuesday morning, AOC boasted about the surge in Google searches for the words 'tax the rich'.

She wrote on Instagram: 'Surge in people looking up and discussing our f****d up tax code is and how we fix it so we can fund childcare, healthcare, climate action and student loan forgiveness for all? Aurora James understood the assignment.'

But she has been slammed for supporting the event by many who say she simply wanted to enjoy the limelight while trying to pass it off as a political protest in yet another example of her tone-deaf hypocrisy.

AOC – who previously posed on the cover of Vanity Fair, drives a $35,000 Tesla and claims to be '100% grass roots from the Bronx' despite growing up in a wealthy NYC suburb – wore a borrowed dress from Brooklyn designer Brother Vellies, a celebrity favorite run by Aurora James and had her make-up done beforehand by a Bobbi Brown artist. Her hair was styled by Vogue stylist Eric Williams and her shoes and bag were also from Brother Vellies.

The only jewelry she wore was a pair of $450 gold hoops from Mejuri and a $65 ring from the same brand.

She didn't wear a mask, like many of the other guests. The event was for fully vaccinated guests only but the celebrities in attendance – who regularly preach online about COVID rules – ignored the guidance of the CDC and liberal states like California, where masks are recommended indoors regardless of vaccination status.