As Spring Auction Sales reports come in, the art world is suddenly agog at Anna Weyant's sudden ascent.
WSJ:
On the night artist Anna Weyant's work debuted at Christie's, the 27-year-old painter was too nervous to attend or even watch the livestream. Instead, Ms. Weyant holed up in her small Manhattan apartment and listened to a calming app on her cellphone until a friend texted with news.

"Summertime," Ms. Weyant's portrait of a woman with long, flowing hair that the artist had sold for around $12,000 two years before, resold for $1.5 million, five times its high estimate.

It has been a rocket-fueled rise to the top of the contemporary art world for Ms. Weyant—and far from her unassuming start in Calgary, Canada. Spotted on Instagram three years ago and quickly vouched for by a savvy handful of artists, dealers and advisers, Ms. Weyant is now internationally coveted for her paintings of vulnerable girls and mischievous women in sharply lit, old-master hues. Imagine Botticelli as a millennial, whose porcelain-skin beauties also pop one leg high like the Victoria Beckham meme or sport gold necklaces that read, "Ride or Die."

Ms. Weyant's oeuvre of roughly 50 paintings has already filtered into the hands of top collectors such as investor Glenn Fuhrman and plastic surgeon Stafford Broumand. The Los Angeles County Museum of Art recently exhibited her work in a group show, and former Venice Biennale curator Francesco Bonami said he predicts she will make her own Biennale appearance soon, which would be another career milestone.

As is, demand for her art outstrips her supply: The waiting list to buy one of her paintings, dealers say, is at least 200 names long. And last month she teamed up with the biggest art gallery of them all, Gagosian. …

Last month, each of New York's three major auction houses included one of Ms. Weyant's works in their high-profile evening sales for the first time—a sign that collectors on her gallery's waiting list and beyond were ready to pay a premium at auction instead. All three works surpassed their auction estimates by multiples. Ms. Weyant didn't get a share, she said, as artists in the U.S. don't automatically get royalties on auction resales of their work.

Her record is a 2020 portrait, "Falling Woman," that sold at Sotheby's for $1.6 million, eight times its high estimate. The painting was consigned by Tim Blum, Ms. Weyant's former dealer at Blum & Poe with whom she has since fallen out, according to the artist. Mr. Blum declined to comment on the consignment.

Looking ahead, Ms. Weyant's task will be to focus on painting amid the market frenzy. …

For the past year, the artist has been dating Larry Gagosian, the 77-year-old founder of arguably the most powerful art gallery network in the world. Precedence exists for such art-world romances: New York dealer Gavin Brown is married to artist Hope Atherton, though he said he never represented her. But Ms. Weyant and Mr. Gagosian's May-December relationship is being scrutinized in art circles. …

For his part, Mr. Gagosian said he has never dated an artist of any kind before. The pair even wavered on whether she should join the gallery because of the optics, they both said. He said he feels his gallery can help get more of her pieces into museums than auction catalogs, though, and when it comes to discussions about her career, he said, he treats her the same as his other artists.

"She's intelligent and has this Midwestern reserve, and she doesn't speak all the art lingo," he said. "I'm just trying to protect her from the big bad wolves."

Ms. Weyant said she welcomes his gallery's market expertise, calling it a comfort.

The artist is also trying to stick to her familiar routine.

Although she increasingly travels in Mr. Gagosian's jet-set circuit, she still lives and works in the one-bedroom apartment on Manhattan's Upper West Side that she moved into in 2017. She pulls the curtains shut in her living-room-turned-studio when she works, her King Charles spaniel snoring beside her.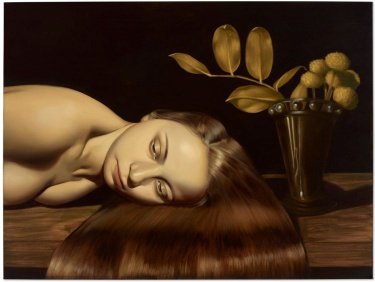 Anna Weyant sold this 2020 portrait, 'Summertime,' for $12,000. Two years later, the buyer resold it at Christie's for $1.5 million.
————————————–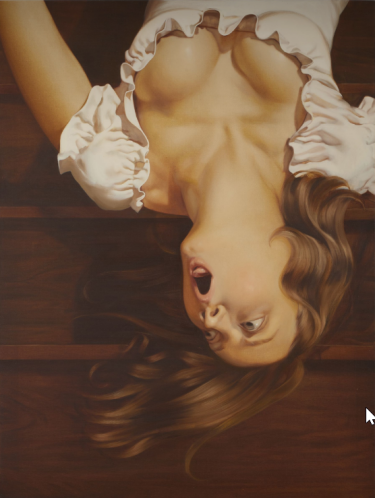 "Falling Woman" sold for $1.6 million at Sotheby's. Its high end estimate was $200,000.
RtWT