06 Jun 2014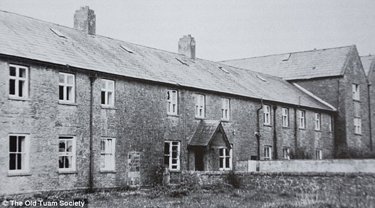 A former workhouse built in the 1840s, later the Mother/Baby Home in Tuam, County Galway, Ireland
At the beginning of this month, a story based upon nothing but old news and unsupported allegations originating from an amateur local historian with an axe to grind rapidly became international news. Left-wing bloggers like Andrew Sullivan leapt aboard, taking the story as good evidence of the Roman Catholic Church's crimes against humanity via that church's disapproval of (what it considers the mortal sin of) extra-marital sex.
The story is, of course, simply an echoing of the popular culture meme created by the 2002 film The Magdalene Sisters, which depicted unwed mothers as innocent victims grossly abused by a greedy and sadistic nun and sexually exploited by a priest at the asylum to which unmarried pregnant women were consigned by an unsympathetic Irish society in the bad old days before the 1960s Revolution.
A vast number of news stories tell us that close to 800 bodies of babies were discovered consigned to a "septic tank" and infer, on the basis of pure speculation, a few anecdotes, and a single war-time health inspection report that children were mistreated and starved into early deaths.
What Was the Mother/Baby Home?
The Tuam Mother/Baby Home was a former workhouse converted by the Irish Free State in 1925 into a county-owned home for unwed mothers, obstetric facility, and orphanage operated by the Order of Bon Secours, a French Order of Nursing Sisters founded in 1799 to provide "good help to those in need," and especially to furnish free nursing for the poor. The Bon Secours sisters first came to Ireland to provide medical assistance during the Great Potato Famine. The county supplied funding on a per capita basis for mothers and babies housed at the facility and also paid the salaries of doctors attending them.
The long abandoned site made headlines around the world this week when it was revealed that a nearby septic tank contained the bodies of up to eight hundred infants and children, secretly buried without coffins or headstones on unconsecrated ground between 1925 and 1961.
No Septic Tank ever Existed
When the Mother/Baby Home closed down in 1961, the property and all records of births and deaths were turned over by Bon Secours Sisters to the state. The buildings were demolished in the early 1970s and the seven acre property was developed into a housing estate. Two boys from the estate playing on the property in the mid-1970s discovered a mass grave in the area behind the former Home.
The grave was discovered in the 1970s by 12-year-old friends, Barry Sweeney and Francis Hopkins.

Mr Sweeney said: 'It was a concrete slab and we used to play there but there was always something hollow underneath it so we decided to bust it open and it was full to the brim of skeletons.

'The priest came over and blessed it. I don't know what they did with it after that. You could see all the skulls.'
Exactly what they found remains unclear. Some local people apparently suggested that the boys had discovered a mass grave of famine victims from the 19th century.
No bodies have actually been recently found.
No one exhumed nearly 800 bodies of babies. What actually happened is that Catherine Corless, a local amateur historian (with the conventional modernist animus against the Roman Catholic Church) became interested and investigated the history of the Home.
When I started my research into the Home, I spoke to some of the residents who had moved into this housing estate on the Dublin/Athenry road, and they indicated that there was an unmarked graveyard in an area at the rear of where the Home once stood. It was believed that it was an angels plot for unbaptised babies, but further in my research I discovered that in fact, many children and young babies were also buried here. I was astonished to find that there was no formal marking or plaque to indicate that these children were buried there. I decided to contact the Registration Office in Galway to check for deaths in the Home. I was dismayed to find that in fact the number of children who died in the Home during its existence 1925-1961 numbered nearly 800. I now have all those children's names, date of death, and age at death, which will be recorded into a special book.

It just did not seem right that all those children lay there unnamed and forgotten. Hence, I made contact with the Western Traveller and Intercultural Development (WTID) and a committee of interested people emerged, all with the view that some sort of Memorial should be erected in this children's graveyard in dedication to their memory. Our committee is named: 'The Children's Home Graveyard Committee'.

We introduced our Project to erect a Memorial to the children, to the Tuam Town Council at one of their meetings, and got a unanimous decision that they would help us with some funding when they get their 2014 Grant Allowance. The Heritage Council have also promised to help but have cautioned us that Heritage Grants have been cut for 2014. Our fundraising is ongoing as it will take a large sum to complete the whole Project, i.e. to erect a proper Monument, clear the pathways into the graveyard, and to maintain the area with flowers and shrubs etc.
There was never any septic tank. Daily Mail:
The babies were usually buried in a plain shroud without a coffin in a plot that had housed a water tank attached to the workhouse that preceded the mother and child home.

No memorial was erected to the dead children and the grave was left unmarked.
The real substance of all the hoo-hah is that apparently baptized babies and small children who died at the Home may possibly have been buried in the same "Angels' Plot" as premature unbaptized infants, and without markers.
The generality of readers have been led by irresponsible journalism to believe on the basis of garbled information and a few anecdotes that the Sisters of Bon Secours starved hundreds of children to death, abused and neglected babies and their mothers, and then tossed the bodies of their victims contemptuously into a septic tank.
Andrew Sullivan was typical of left-wing bloggers, though possibly even a bit keener than most:
These children were treated as sub-human because their births violated a Catholic doctrine that there can be no sex outside of marriage. The young women – denied contraception, of course – were equally subject to horrifying stigmatization, hatred, and inhumane rules that took their children away from them.
Providing support and education for, and arranging the adoption of the children of unwed mothers who have no ability to support them does necessarily involve taking those unwed mothers' children away from them. This sort of thing used to be looked upon as a good deed, not as a crime against humanity. But people used to have a lesser sense of self-entitlement.
Reading anecdotes testifying that a stone institutional building in early 20th century Ireland was cold fails to surprise. I could collect even larger numbers of first-hand accounts testifying to harsh treatment and bad food from the young men consigned to such secular institutions as Eton and Harrow during precisely the same period. Where I differ from Andrew Sullivan and other champions of the Press would be in my declining to have any part in attempting to adjudicate alleged pre-1961 complaints on the basis of a few anecdotes from disgruntled people.
The Health Report quoted by Ms. Corless is unflattering undoubtedly, but it was written in 1944 we must recognize. WWII was going on in 1944. Food supplies, even in neutral Ireland, were disrupted, and people all over Europe were living on short rations. The records indicate that the Tuam unwed mothers' asylum and orphanage was filled well over-capacity. Just like increased promiscuity, food shortages and over-crowding are inevitable results of war-time conditions. I don't know that you can blame the nuns. Why not blame the County? If there were shortages of food or heat in 1944, the monies to pay for them were not being provided by the government. The nuns were doubtless living on the same rations and shivering in the same cold.