28 Feb 2013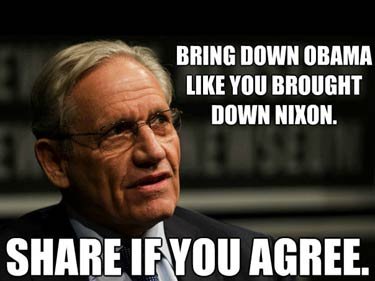 The big news of the day is the outbreak of open war between veteran journalist Bob Woodward and Barack Obama.
Woodward last week challenged the Obama Administration's blaming Republicans for the Sequester, pointing out that the idea of an automatic trigger was originated by the White House in July of 2011.
There was immediate pushback from the left's commentariat, disputing his interpretation and dismissing the once-admired Nixon-slayer as "troutmouth Bob" and "a hack."
Apparently, Woodward's questioning the White House party-line on the grand budget battle du jour was perceived as potentially very damaging, because Woodward is retaliating now by revealing that when he discussed that upcoming column with the head of the President's National Economic Council Gene Sperling, Woodward found himself on the receiving end of a half hour long tirade.
Sperling subsequently sent a lengthy email, in which he apologized for "raising his voice," but which also asserted (obviously falsely) that Woodward was wrong about the fact in issue (that the Sequester proposal was initiated by the White House, and not by congressional Republicans), and warning him that he "will regret staking out that claim."
Threatening prominent reporters is an awfully bold and bad thing for any administration to do, and historically trying to intimidate the press has not worked out well for those who've tried it.
Bob Woodward (not surprisingly) retaliated by releasing the email exchange.
Rather than being intimidated, of course, Bob Woodward is responding to the attempts to pressure him to shut up by openly attacking Barack Obama's decisions in other areas. Yesterday, Woodward took a swipe at Obama's declining to deploy a carrier to the Persian Gulf "because of budget cuts." (See video)