Category Archive 'Mississippi'
02 Apr 2019

Then he ought to have done "Dixie."
13 Mar 2013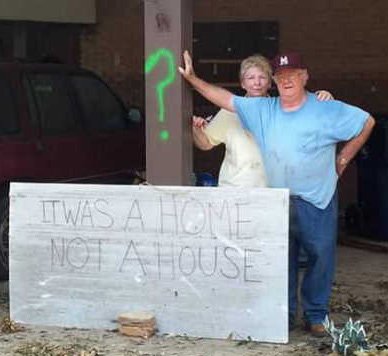 the late Harry Stamps with unknown woman. (His sister-in-law, Betty Williams, writes to explain that the photo shows Harry with his wife of 50 years photographed together after the destruction of their home by Hurricane Katrina in 2005.)
The obituary of Harry Stamps, written by his daughter Amanda for the Gulfport Mississippi Sun-Herald, is being linked everywhere and is widely described "as the best obituary ever."
Harry Weathersby Stamps, ladies' man, foodie, natty dresser, and accomplished traveler, died on Saturday, March 9, 2013.

Harry was locally sourcing his food years before chefs in California starting using cilantro and arugula (both of which he hated). For his signature bacon and tomato sandwich, he procured 100% all white Bunny Bread from Georgia, Blue Plate mayonnaise from New Orleans, Sauer's black pepper from Virginia, home grown tomatoes from outside Oxford, and Tennessee's Benton bacon from his bacon-of-the-month subscription. As a point of pride, he purported to remember every meal he had eaten in his 80 years of life.

The women in his life were numerous. He particularly fancied smart women….

He had a life-long love affair with deviled eggs, Lane cakes, boiled peanuts, Vienna [Vi-e-na] sausages on saltines, his homemade canned fig preserves, pork chops, turnip greens, and buttermilk served in martini glasses garnished with cornbread.

He excelled at growing camellias, rebuilding houses after hurricanes, rocking, eradicating mole crickets from his front yard, composting pine needles, living within his means, outsmarting squirrels, never losing a game of competitive sickness, and reading any history book he could get his hands on. He loved to use his oversized "old man" remote control, which thankfully survived Hurricane Katrina, to flip between watching The Barefoot Contessa and anything on The History Channel. He took extreme pride in his two grandchildren Harper Lewis (8) and William Stamps Lewis (6) of Dallas for whom he would crow like a rooster on their phone calls. As a former government and sociology professor for Gulf Coast Community College, Harry was thoroughly interested in politics and religion and enjoyed watching politicians act like preachers and preachers act like politicians. He was fond of saying a phrase he coined "I am not running for political office or trying to get married" when he was "speaking the truth." He also took pride in his service during the Korean conflict, serving the rank of corporal–just like Napolean, as he would say.

Harry took fashion cues from no one. His signature every day look was all his: a plain pocketed T-shirt designed by the fashion house Fruit of the Loom, his black-label elastic waist shorts worn above the navel and sold exclusively at the Sam's on Highway 49, and a pair of old school Wallabees (who can even remember where he got those?) that were always paired with a grass-stained MSU baseball cap.

Harry traveled extensively. He only stayed in the finest quality AAA-rated campgrounds, his favorite being Indian Creek outside Cherokee, North Carolina. He always spent the extra money to upgrade to a creek view for his tent. Many years later he purchased a used pop-up camper for his family to travel in style, which spoiled his daughters for life.

He despised phonies, his 1969 Volvo (which he also loved), know-it-all Yankees, Southerners who used the words "veranda" and "porte cochere" to put on airs, eating grape leaves, Law and Order (all franchises), cats, and Martha Stewart. In reverse order. He particularly hated Day Light Saving Time, which he referred to as The Devil's Time. It is not lost on his family that he died the very day that he would have had to spring his clock forward. This can only be viewed as his final protest.
14 Jan 2013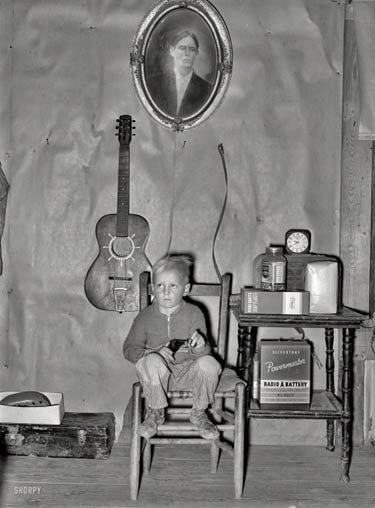 January 1939. "Sunflower Plantation. Son of tenant farmer in corner of living room. Pace, Mississippi."
From Shorpy's.
21 May 2012

The New York Times attends a very special event in rural Mississippi.
Tamke and I are at the annual Otha Turner Family Picnic, a legendary jam session that takes place every summer behind a tumbledown sharecropper's shack deep in Mississippi's hill country. The interracial crowd is a few hundred strong and drawn from nearly every stratum of local life — bikers, college kids, workingmen, toughs, gentlemen farmers. And then there are a couple dozen like me: urban cosmopolites eager to hear the deepest roots of the blues. Tamke calls himself "a redneck," and he's attacked me because I'm from The New York Times. Shouting into my ear over the music, Tamke makes me his megaphone for what he wants the outside world to know: "Our races have melded together, we share everything," he says, voice trembling. "We love each other." He's squeezing my skull so hard it feels like it might pop, and it's clear that he's under the influence of something very powerful. The moonshine or the music, I don't know. Finally, when it seems something is about to crack — my neck, or Tamke's tenuous hold on sanity, or both — he lets me go. "It's sacred," he says, choking up. "It's ancient, man."

"It" is fife and drum, an African take on colonial English marching songs, and one of the oldest forms of distinctly American music, played by the slaves of Jefferson's Monticello and still played today — by one family, once a year, at this, one of the last of the traditional farm picnics celebrating the end of the growing season.
Hat tip to Tom Weil.
26 Apr 2011

Brandon, Mississippi is the county seat of Rankin County, and boasts of having furnished the state of Mississippi with more governors, senators, congressmen, judges, district attorneys, physicians, and teachers than any other town of its size (population 16436) in the state.
Not only is Brandon an exemplary source of leadership for its state, Brandon is apparently capable of setting an excellent example of how to deal with the kind of vexing and legally complicated issues which successfully tie the urbanized American establishment up in theoretical knots.
The funeral of 28-year-old Marine Staff Sergeant Jason Rogers, a married resident of Brandon killed during a combat patrol in Afghanistan, on April 14th attracted the unwelcome attentions of the crazies from the Westboro Baptist Church of Topeka, Kansas, who have since 2005 made a practice of seeking media attention by the outrageous tactic of picketing military funerals.
A commenter on a University of Mississippi discussion board who signs himself weblow.sixpackspeak explains how a small town in Mississippi dealt with the problem informally and effectively.
A couple of days before, one of them ran his mouth at a Brandon gas station and got his ass waxed. Police were called and the beaten man could not give much of a description of who beat him. When they canvassed the station and spoke to the large crowd that had gathered around, no one seemed to remember anything about what had happened.

Rankin County handled this thing perfectly. There were many things that were put into place that most will never know about and at great expense to the county.

Most of the morons never made it out of their hotel parking lot. It seems that certain Rankin county pickup trucks were parked directly behind any car that had Kansas plates in the hotel parking lot and the drivers mysteriously disappeared until after the funeral was over. Police were called but their wrecker service was running behind and it was going to be a few hours before they could tow the trucks so the Kansas plated cars could get out.

A few made it to the funeral but were ushered away to be questioned about a crime they might have possibly been involved in. Turns out, after a few hours of questioning, that they were not involved and they were allowed to go on about their business.

Rankin [County] deserves a hand in how they handled this situation.
A video with a musical background to Mississippi Highway Patrol Trooper Elmo Townsend's dash camera view, recorded as he escorted the funeral procession via Airport Road and along U.S. 80 from Pinelake Baptist Church to the Old Brandon Cemetery has been widely linked on the Internet. Hundreds of people lined the local highways to pay their respects.
Hat tip to the Hay Ride via I Hate the Media and Trending Right.