08 Dec 2021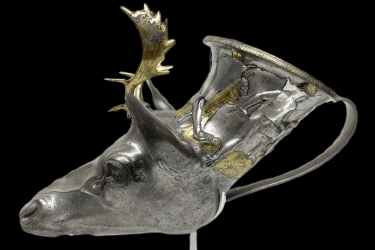 Stag's Head Rhyton sent to Erdoğan's regime in Turkey.
The NYT praises NYC District Attorney Cyrus Vance's latest triumph.
Michael H. Steinhardt, the billionaire hedge fund pioneer and one of New York's most prolific antiquities collectors, has surrendered 180 stolen objects valued at $70 million and been barred for life from acquiring any other relics, the Manhattan district attorney's office said in a statement Monday.

The prosecutor's office struck an agreement with Mr. Steinhardt after a four-year multinational investigation that determined that the seized pieces had been looted and smuggled from 11 countries, trafficked by 12 illicit networks and appeared on the international art market without lawful paperwork, the office said. …

Mr. Steinhardt, a Brooklyn native who turns 81 on Tuesday, is a major contributor to New York University and to numerous Jewish philanthropies. There is a Steinhardt conservatory at the Brooklyn Botanic Garden and a Steinhardt Gallery at the Metropolitan Museum of Art. …

As part of its inquiry, Mr. Vance's office said, prosecutors executed 17 search warrants and worked with officials in 11 countries — Bulgaria, Egypt, Greece, Iraq, Israel, Italy, Jordan, Lebanon, Libya, Syria, and Turkey. …

[Returned items] include:

A ceremonial libations vessel, or rhyton, that depicts a stag's head, purchased from the Merrin Gallery of Manhattan for $2.6 million in November 1991. Officials said the item, which dates to 400 B.C., first appeared on the international art market without provenance after rampant looting in Milas, Turkey. In March 1993, prosecutors said, Mr. Steinhardt lent it to the Metropolitan Museum of Art, where it was when law enforcement officials seized it. It has since been repatriated.

A larnax, or small chest for human remains, from Crete, that dates between 1400-1200 B.C. Officials said the item, valued at $1 million, was purchased from a known antiquities trafficker and traced to Mr. Steinhardt through a financial institution based in Malta.

The "Ercolano Fresco," purchased from Robert Hecht, who had faced accusations of trafficking in antiquities, "with no prior provenance" for $650,000 in November 1995. Dating to 50 B.C. and valued at $1 million, it depicts an infant Hercules strangling a snake sent by Hera to slay him. The fresco was looted in 1995 from a Roman villa in the ruins of Herculaneum, near Naples, officials said.

A gold bowl looted from Nimrud, Iraq, and purchased without provenance papers, officials said, for $150,000 in July 2020, at a time when objects from Nimrud were being trafficked by the Islamic State in Iraq and the Levant. …

Three stone death masks that appeared to be encrusted with soil in photographs recovered by the Israeli authorities. They date to 6000 B.C. and were purchased by Mr. Steinhardt for $400,000 in October 2007.

Prosecutors said Mr. Steinhardt had owned and traded more than 1,000 antiquities since 1987, and his art collection was valued at about $200 million.
————————
It's obviously vital and morally obligatory to take antiquities out of the Metropolitan Museum in New York (where they were on loan) and return them to places like Turkey, Lebanon, and Iraq.
After all, who could possibly argue that the contemporary corrupt and barbarous regimes ruling over the descendants of peoples who invaded and replaced the much earlier peoples who created certain precious objects of art are not 100% entitled to ownership of all objects lost centuries and millennia ago and found and recovered by somebody else?
And why should the Manhattan D.A.'s Office waste its time prosecuting Smash-and-Grab robberies of Manhattan luxury stores, for instance, when it can devote the same time to sending back tens of millions of dollars worth of art to banana republic governments in the Mediterranean and the Middle East?