12 Nov 2022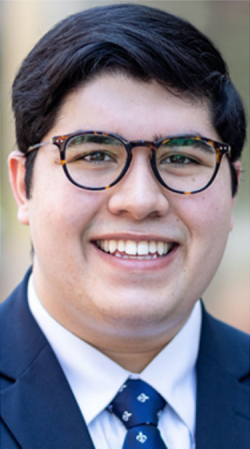 David Spicer, MIT Undergraduate Association President.
The Babbling Beaver (MIT's conservative satire site) published a real news item, linking a student paper editorial vociferously denouncing a recent Administration report supporting Free Expression.
Its author, the current president of the MIT undergraduate student body is a spectacular specimen of avidly ambitious, power-seeking leftism, like a baby rattlesnake, already fully-equipped with potentially lethal levels of poisonous ressentiment.
This kid, unfortunately, will be heard from in larger contexts in years to come.
[T]he Freedom of Expression report fails to properly consider, let alone assign weight to, the many places speech can occur. Should speech look different in an academic versus residential setting, considering the primary purposes of such places differ? Residential settings serve as students' ultimate retreat. Unlike speech in the classroom or on the campus grounds where students can stay or exit as they see fit, speech in residential settings inherently has a captive audience. I would not expect it to be acceptable to barge into President Reif's Gray House anytime I wish to voice my speech, nor should students be expected to have their homes violated in the same manner. More work and discussion is imperative to understand the implications of free speech in different scenarios, taking into account the time, place, and manner of the speech.

Second, the Freedom of Expression report fails to safeguard students against the harms of power differentials. The report believes "empowering our students to be confident advocates who refuse to be silenced" is the appropriate response to speech that chills or silences the voices of marginalized minority groups. I will offer one personal example to illustrate my argument. In spring 2022, I took a required Course 17 class where my teaching assistant said hurtful things to my classmates and me. For example, when I spoke about my queer identity, said TA berated me, asking,"What makes you a minority?" Never in my Latinx, immigrant, genderqueer, gay, disabled, low-income life would I imagine having to defend myself against such an invalidating question. I did not feel comfortable with the remarks of this TA, so I reported the behavior to my professor and department chair and filed a report through the Institute Discrimination and Harassment Response Office (IDHR). The result? My department chair never followed up on the matter. My professor leaked the contents of my email to the TA without my consent. IDHR told me they could not take action on the case. As a student, I could not continue with the class. What protections would I, as a student, have in a scenario like this? Is this the new hallmark of a MIT education?

Real or not, I had a sincerely held perception that I was not and could not be treated fairly in this class. I use this example to show that this Freedom of Expression report would allow my TA to say such harmful comments and to create a hostile academic environment and fails to protect a student like me from the harms of power differentials. While I would like to consider myself an okay exemplar of a "confident advocate," I did not achieve an acceptable outcome to my situation. I can only imagine how students without my level of comfort in advocating for myself would fare in such a situation. A belief that students should simply advocate in the face of such situations negligently fails to wrestle with the unsettling realities behind power differentials. Such a belief fails students.