Category Archive 'Fiction'
17 Jul 2019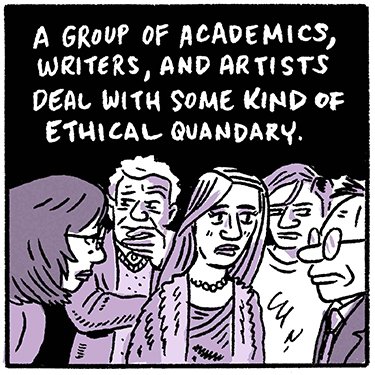 A literary comic strip by Nathan Gelgud.
01 Mar 2019

WaPo obituary:
Charles McCarry spent almost 10 years in the CIA as an undercover officer, operating alone as he roamed throughout Africa, Europe and Asia in the 1950s and 1960s. He never carried a gun. He didn't kill anyone.

He was in the agency when the Berlin Wall went up in 1961. He was in and out of Vietnam. He was at an airport in Congo in 1963, when a Belgian priest told him about the assassination of President John F. Kennedy. He always went by an assumed name and never lived in the same countries in which he worked.

After he resigned from the CIA to become a writer, Mr. McCarry used many of those elements in the novel that many consider his masterpiece, "The Tears of Autumn." But when he turned in his manuscript, it was initially rejected by his publisher.

"Where's the car chase? Where's the torture scene? Where's the sex? Where's the good Russian?" the publisher demanded, as Mr. McCarry recalled in a 1988 essay for The Washington Post. "Do you call this a thriller?"

The publisher gave Mr. McCarry a best-selling novel to study. A month later, Mr. McCarry submitted his manuscript again — without so much as changing a comma. This time, it was accepted.

"I can only write what I know," he noted.

Since it came out in 1974, "The Tears of Autumn" has sold millions of copies and has been hailed as a classic of espionage fiction. In his 13 novels, Mr. McCarry created dense, fast-moving plots of international intrigue populated by complex, troubled characters — male and female — seeking to find order and purpose in their lives.

"There is simply no other way to say it," Otto Penzler, a leading expert on crime and espionage fiction, wrote in the New York Sun in 2004. "Just the straightforward, inarguable truth: Charles McCarry is the greatest espionage writer that America has ever produced."

Mr. McCarry, whose novels about spycraft and politics were deeply admired if not always well known, died Feb. 26 at a hospital in Fairfax County, Va. He was 88.

He had complications from a cerebral hemorrhage sustained in a fall, said a son, Caleb McCarry.

No blockbuster movies have been based on Mr. McCarry's books, his photograph seldom appeared on his dust jackets, and he didn't go on book tours or appear on television. "They only want to ask me about my life in the CIA," he told The Post in 1988, "and I can't talk about that."

Yet his novels were written with such a deft, knowing touch that he often invited favorable comparisons to another spy-turned-author. "Mr. McCarry is the American le Carré," Penzler wrote, "equaling him stylistically but surpassing his English counterpart in terms of intellectual depth and moral clarity."
———————-
Some quotations:
"Papa likes to know what a man is going to say to him before he starts to talk," Cathy told Christopher. "If there's no horse in the first sentence, he knows he's in the wrong company."
–The Secret Lovers, 1977, p. 65.
——–
The male parent seldom spoke. On first meeting he had established that he and Christopher had been in the same regiment of Marines in different wars and in the same house at Harvard; he had never asked Christopher another question. "He knows everything about you, knowing those two things, that he needs to know," Cathy said.
–The Secret Lovers, 1977, p. 103.
——–
"I come from the most anti-American country on earth."
"Canada? Ah, no, America is the most anti-American country on earth. When you speak of public opinion, young man, you speak of the opinions of the intellectuals because they are the only ones who publish and broadcast. The masses are dumb. Intellectuals always hate their own country, but the United States has produced an intelligentsia which is positively bloodthirsty."
–The Secret Lovers, 1977, p. 127.
——–
"In Spain the Germans tested aerial bombing tactics; the Soviets, propaganda. You see who won in the end. In 1945 there was no Luftwaffe. No one has yet found a way to shoot down the illusions of the Left."
–The Secret Lovers, 1977, p. 139.
——–
"This woman had the greatest private collection in Spain, portraits of her ancestors," Rodegas said. "She was asked by a journalist if she was not filled with awe, to possess the works of all those dead geniuses. 'Awe?' she replied, 'Genius? Goya, Velázquez, Rembrandt, were simply the people my family hired before the invention of photography.'"
–The Secret Lovers, 1977, p. 250.
21 Feb 2019

At Crime Reads, Neil Nyren celebrates the inimitable Dick Francis.
Dick Francis was a master of the first line, the first paragraph, the first page. Once read, they hooked you immediately. Nothing would keep you from wanting to find out what happened next.

Take the opening of Straight (1989):

"I inherited my brother's life. Inherited his desk, his business, his gadgets, his enemies, his horses and his mistress. I inherited my brother's life, and it nearly killed me."

So much packed into three sentences. First, note the rule of three: inherited…inherited…inherited. Short-long-short-boom. How did his brother die? Were his enemies responsible? What was his business? His "gadgets"? Wait, inherited his mistress? Nearly killed him? You've got to find out, don't you?

A few other choice openers:

"I had told my drivers never on any account to pick up a hitchhiker, but of course one day they did, and by the time they reached my house, he was dead." (Driving Force, 1992)

"Sadly, death at the races is not uncommon. However, three in a single afternoon was sufficiently unusual to raise more than an eyebrow." (Under Orders, 2006)

"I intensely disliked my father's fifth wife, but not to the point of murder." (Hot Money, 1987)

"I was never particularly keen on my job before the day I got shot and nearly lost it, along with my life. But the .38 slug of lead that made a pepper shaker out of my intestines left me with fire in my belly in more ways than one." (Odds Against, 1995)

"Fire in the belly" is an apt term for all of Francis's heroes—maybe not at first, but once their sense of injustice is aroused, they are driven. Most of them are ordinary blokes with a keen morality and, once spurred, they prove to be more courageous and resourceful than they—or their enemies—had thought themselves to be. They're often a bit damaged—physically, mentally, or both—stalwart yet sensitive men in the 30s, who come from dysfunctional families and are often single—divorced, widowed, in love with someone inappropriate (a relative, a friend's wife) and thus unable to act on it—and if he's married, it might be to someone with a debilitating condition that makes physical intimacy impossible. Francis never made it easy for his heroes (though sometimes he let them meet someone romantically suitable by the end of the book).

The heroes were almost always different—Francis repeated only two characters during all of his 40 books from 1962 to 2006—jockey Kit Fielding, who appeared in two books, and jockey-turned-investigator Sid Halley, who appeared in three (plus one written by Francis's son, Felix). Halley is a true exemplar of a Francis hero, a man intelligent and principled, with a hand terribly injured in a racing accident, the sight of it enough to make new acquaintances gasp, who finds bravery and his true calling in the midst of a storm of adversity.
29 Aug 2018

It's easy to sell me $1.99, even $2.99, eBooks for my Kindle reader, but I generally avoid newly issued titles costing $13.99. Susan Froderberg's essay on how she came to write her new mountain-climbing novel Mysterium has a lot of the same kind of over-the-top enthusiasm I like about the writing of my friend Steve Bodio. And she sold me. I'm buying both of her books.
In 2008, one of the climbing heroes I had read and heard tales about, John Roskelley, led the way for a group of us to the 17,000 foot base camp of Gangkhar Puensum, in Bhutan, the highest unclimbed mountain in the world. In 1978, Roskelley was one of the first Americans to summit K2. An American expedition team had first made an attempt in 1938, but it wasn't until 1954 that the Italians would be the first to arrive to its summit. I still have the 1979 National Geographic Magazine with Roskelley's K2 photograph on the cover: Rick Ridgeway looking like the tin man shackled in a high altitude suit with face covered by a silver mask, walking a knife-edge snow crest. (And looking relaxed!) Every time I gaze at this picture it blows me away.

For three weeks I followed behind Roskelley on the Bhutan trek, and when I wasn't thinking through this or that notion or ambition or life complication, or simply letting my mind wander not pondering at all (what is walking for, after all?), I was listening to his stories. I still recall details of a few that will forever stick in my mind, even when I reach the age of not being able to recall my children's names (or remember that I don't have any). For example, he did not change his clothes at all (at all!) on one two-month-long expedition, day or night, for the sake of carrying less weight, and when he got off the mountain and finally had a chance to bathe he discovered the fabric of his clothing had embedded into his flesh and could not be washed away. Another time, he and a friend showed up to the base of a mountain in the Canadian Rockies they had hoped to ice climb the next day, and found the floor of the women's restroom in a park campground a suitable enough place to bivouac for the night in below zero cold. (The men's room was, evidently, unacceptable.) Roskelley was full of anecdotes like these, but he was reticent about incidents having to do with the Nanda Devi expedition. His hesitancy to speak about the Unsoelds or what happened on that trip fascinated me all the more. He had written a book and published an account of the team's ascent (he and Lou Reichardt made the summit) and maybe there he had said all he wanted or needed to say.

Willi Unsoeld was one of the first Americans to summit Mount Everest on an expedition in 1963. He and Tom Hornbein traversed the west ridge—a legendary climb that has not since been accomplished. (Ueli Steck, the famed Swiss climber, plunged 3,200 feet to his death in 2017 on an acclimatizing climb for an attempt on the Unsoeld/Hornbein west ridge route.) Unsoeld taught philosophy and theology at Evergreen College. He died at the age of 52, two years after the death of his daughter on the Nanda Devi expedition, as he was guiding a group of his students on a summit climb of Mount Rainier. He and a student, a young woman who would have been about his daughter Devi's age when she died, were killed in an avalanche on the descent.

Unsoeld named his daughter Nanda Devi after what was once the highest peak in India (it is now the second highest peak: in 1975 Sikkim joined the republic of India). "I dreamed of having a daughter to name after the peak," he said. He did, and she grew up wanting to summit the mountain for which she had been christened.

It was the irony of the naming that compelled me to write the story. How would a father manage such a tragedy? A philosophy professor. What did he feel? How did he think? How did he carry on?

What would it be like to be him?

What would it be like to be Devi? To follow an ambition given to her by the name she had been named? To climb with her father, one of the most highly regarded climbers in American history? To meet and fall in love with a fellow team member on the trip and halfway up the mountain be engaged to be married to him? To be young and in love and at the top of the world with all of everything ahead of you? I don't know, I can only imagine. No one can know. She is not here to tell us. I realized I would have to write the book I had been hoping to read.
27 Aug 2018

Sarah Hoyt is a successful professional author in Sci Fi/Fantasy genre, who is also a libertarian conservative. Sarah is sufficiently eminent that she routinely guest-blogs on Instapundit.
Over at PJM, Sarah has published the first of a series of articles teaching you how to write a short story.
what is a short story? Surely before you write one you need to know that.

A story is a satisfying unit of action, character development and emotional resolution (ideally all tree, practically at least one of those.) A short story is all of that but in under 10,000 words.

No, it's not actually easy to write, but fortunately for you I made every possible mistake learning how to, and therefore developed cheat sheets, plot schematics and all sorts of crazy ways to write competent short stories, (to date, I've sold more than a hundred, at professional rates. I used to write a short story every Saturday, regardless of what else I was writing.)
06 Feb 2018

Was My Face Red publishes some interesting fiction.
This story is a really, really long comedic shaggy dog story told by a Salingeresque Upper Middle Class female WASP of my parents' generation.
26 Nov 2014

Steve Bodio quotes Mississippi writer Barry Hannah:
"Walthall bought an ancient Jaguar sedan for nothing, and when it ran, smelling like Britain on the skids or the glove of a soiled duke…"
— from Get Some Young, 1997.
————————
Lee Ellis, in a New Yorker tribute titled "Sabres, Gentlemen," quotes Hannah on the burden of Southern history:
"All the generations of wonderful dead guys behind us. All the Confederate dead and the Union dead planted in the soil near us. All of Faulkner the great. Christ, there's barely room for the living down here."
23 Feb 2010

Ten rules (sometimes fewer) for writing fiction from Elmore Leonard, Dianna Athill, Margaret Atwood, Roddy Doyle, Helen Dunmore, Geoff Dyer, Anne Enright, Richard Ford, Jonathan Franzen, Esther Freud, Neil Gaiman, David Hare, P.D. James, AL Kennedy, Hilary Mantel, Michael Moorcock, Michael Morpurgo, Andrew Motion, Joyce Carol Oates, Annie Proulx, Philip Pullman, Ian Rankin, Will Self, Helen Simpson, Zadie Smith, Colm Tóibín, Rose Tremain, Sarah Waters, Jeanette Winterson.
—————————————————-

Col. George Washington, Foxhunter (Ralph Boyer, aquatint, Fathers of American Sport, Derrydale Press, 1931)
One day belated notice of the birthday of our neighbor and compatriot in the hunting fields of Clarke County, George Washington.
When he was 14 or 15 years old, George Washington copied out by hand 110 "Rules of Civility and Decent Behaviour in Company and Conversation."
Washington's maxims came from a translation of a treatise Bienseance de la Conversation entre les Hommes produced by the pensonnaires of the Jesuit Collège Royal Henry-Le-Grand at La Flèche in 1595. René Descartes studied at the same college just a few years later, 1607 to 1615.
The case of George Washington, I would suggest, can be taken to demonstrate that residence at Harvard, Yale, or even La Flèche is not an absolute requirement for leadership success or good manners.
—————————————————-
WSJ comments on the Obama plan to ram the health care bill through, damn the rules of the Senate and the wishes of the public.
The larger political message of this new proposal is that Mr. Obama and Democrats have no intention of compromising on an incremental reform, or of listening to Republican, or any other, ideas on health care. They want what they want, and they're going to play by Chicago Rules and try to dragoon it into law on a narrow partisan vote via Congressional rules that have never been used for such a major change in national policy. If you want to know why Democratic Washington is "ungovernable," this is it.
—————————————————-
David Brooks discovered that something has gone wrong with the meritocratic revolution, and wonders if this might have something to do with the new elite not being quite so meritorious as had been supposed.
[H]ere's the funny thing. As we've made our institutions more meritocratic, their public standing has plummeted. We've increased the diversity and talent level of people at the top of society, yet trust in elites has never been lower.

It's not even clear that society is better led. Fifty years ago, the financial world was dominated by well-connected blue bloods who drank at lunch and played golf in the afternoons. Now financial firms recruit from the cream of the Ivy League. In 2007, 47 percent of Harvard grads went into finance or consulting. Yet would we say that banks are performing more ably than they were a half-century ago?

Government used to be staffed by party hacks. Today, it is staffed by people from public policy schools. But does government work better than it did before?

Journalism used to be the preserve of working-class stiffs who filed stories and hit the bars. Now it is the preserve of cultured analysts who file stories and hit the water bottles. Is the media overall more reputable now than it was then?

The promise of the meritocracy has not been fulfilled. The talent level is higher, but the reputation is lower.
01 Aug 2006

Diana Peterfreund's Secret Society Girl is an agreeable example of High School/Adult Chick lit, with benefits.
(In a modest effort at discretion, names have all been changed.)
Smart and spirited Amy Haskell is a junior at "Eli University" (Yale), where she edits the "Lit Mag" (Yale Literary Magazine), and resides at "Prescott College" (Davenport or Pierson), and so on.
Amy had been expecting to be tapped for the humble literary Senior Society "Quill & Ink" (Manuscript), but instead receives an unexpected (and irresistible) invitation from the dreaded and all-powerful "Rose & Grave," described as follows:
You've heard the legends, I'm sure. We're the Ivy League's dirty little secret. We run the country, even the states you wouldn't think we'd care about, like Nebraska. We start wars, we coordinate coups, and we have a hand in writing the constitution of every new nation. Every presidential candidate is a member—that way, whoever wins, they'll always be under our thumb.

The media fears us, which is silly, since the CEO of every newspaper and television network in the country is already a member of our brotherhood. We've been controlling every aspect of the media for more than a century, from deciding which movies get greenlighted to choosing the next American Idol. (Do you actually think your text-message votes count?)

We own most of the buildings of the university, as well as most of the land in the city, and we've got a good proportion of it bugged. The local police work for us. The mayor lives in our pocket. There's not a student on campus who isn't afraid to walk past our imposing stone tomb.

Election to our society is a ticket into a wildest dreams. Success is our birthright from the moment we emerge from our initiation coffins into our new lives as members of the society. Any job we want is within our reach, and any job we don't want our enemies to have is out of theirs. We are given enormous monetary gifts upon graduation, as well as sports cars, valuable antiques, and a mansion on a private luxury island. We will never be arrested. We will never be impoverished. The society will see to that.

Our loyalty to the society supercedes everything else in our life—our families, our friendships, even our love lives. If anyone, even someone we care about with all our heart, mentions the name of our society in our presence, we must leave the room immediately and never speak to them again.

We can never tell anyone that we are members. We can never let anyone who is not a member into our tomb, or they'll be killed.

We can never quit the society or reveal any of its secrets, or we'll be killed.

Which of these rumors are true and which are overblown conspiracy theories?

I'd tell you, but then I'd have to kill you.
The author, Y '01, serves up a thinly veiled, but still quite informative picture, of the customs and ceremonies of a certain nameless Yale organization (whose membership includes both candidates in the 2004 Presidential election), along with what seems to be a pretty accurate description of the interior of a certain well-known building on High Street.
She plays with history just a bit for purposes of her plot, moving the confrontation within a certain society which occurred in 1991 over the selection of female intitiates between that year's graduating class and the society's alumni forward to the present day.
Like many school story protagonists of earlier day, Amy Haskell experiences serious doubts about her own commitment to ancient and arcane school traditions, as her new association with these quickly produces ugly conflict and personal cost. At first, she tries to free herself by rejecting those traditions, but she soon comes to understand that they have already become part of herself, and she must defend her own right to be part of them.
Book web-page.
23 May 2006

A grim short story posted on Varifrank imagines the future resulting from the failure of American leadership today.
"10 men before you fall" he whispered to himself as he slowly squeezed the trigger.
——————————-
Hat tip to PJM.