Category Archive 'Furniture'
02 Nov 2016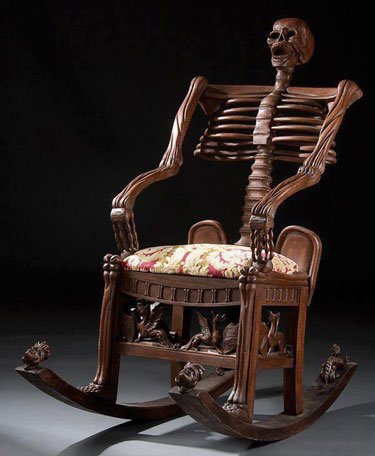 20 Sep 2014

From the workshop of Abraham & David Roentgen, made for King Frederick William II of Prussia.
The clueless ninny writing at Metapicture says:
Watch what it can do and then remember this was all done with hand tools.
Young people who have never been in personal contact with the production of physical objects and who have been brought up to believe in the Whig Theory of History and the notion of Coueist Technological Progress inevitably suppose that machines can do everything better. In reality, if you want real precision, you build it with hand tools.
Hat tip to Karen L. Myers.
16 Jun 2013

Humboldt County, California was once home to half-horse, half-alligator mountain men rather than Pacifist, tree-hugging, pot-farming hippies. One old-time resident, Seth Kinman 1815-1888, boasted of killing 800 Grizzly bears in his lifetime and of having shot 60 elk in one month. He made furniture out of his trophies and presented examples to Presidents James Buchanan, Abraham Lincoln, Andrew Johnson, and Rutherford Hayes.
Hat tip to Greg Nylander via Vanderleun.