26 May 2020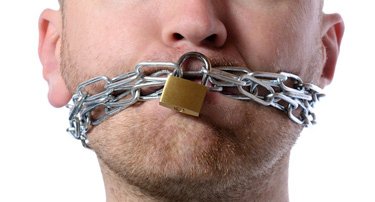 The Heritage Foundation recently published a must-read report on the Left's widely successful effort to first stigmatize, and eventually to criminalize, speech and ideas it doesn't like, thus shutting down all discussion and debate over very significant cultural and policy issues.
America is the only Western nation that does not criminalize "hate speech." Canada, Australia, New Zealand, and most nations of Europe already do so. The United Nations relentlessly pressures the remaining holdouts to follow suit: "As a matter of principle," says the U.N. Secretary-General, "the United Nations must confront hate speech at every turn."

Meanwhile in America, Members of Congress issue their support for speech restrictions, and Big Tech's digital oligarchs, enjoying a disproportionate power over society, continue to impose speech restrictions in exchange for access to their platforms. So are America's colleges and universities more and more governed by an aggressive chorus of students, faculty, and administrators who demand and impose speech codes. These fronts promises to grow in size, strength, and confidence in the coming years.

Leading restriction advocates want not only to banish "hate speech," but also to criminalize it. In the words of Mari Matsuda, an influential professor at the University of Hawaii Law School, "[F]ormal criminal and administrative sanction—public as opposed to private prosecution—is also an appropriate response to racist speech."

Perhaps most surprising, legal precedents that would bring this revolution fully into existence in America are already embedded in two areas of our legal system: antidiscrimination and harassment laws, and Supreme Court rulings favoring sexual liberation that are based on a new view of "dignity."

If Americans are to resist this growing movement, they must understand the arguments, the demands, and the consequences of outlawing "hate speech." No laws of history dictate that America must submit and follow this path.

The debate over "hate speech" reveals a fundamental disagreement about the purpose of America. Either it is political liberty, in which case the freedom of speech is essential for presumptively rational citizens to rule themselves politically and to pursue the truth through science, philosophy, or religion. Or it is the equal self-respect and dignity of marginalized and self-created identities, in which case these must not only be publicly affirmed and celebrated, but also shielded from (even well-meaning) scrutiny and criticism, called "speech violence" or "hate speech." These two views cannot coexist. Indeed, restriction advocates admit that America's understanding of speech "comes into tension with the aspiration of equal dignity."

They want to eliminate the former to make way for the latter.