Category Archive 'Health'
24 May 2018

19 Mar 2013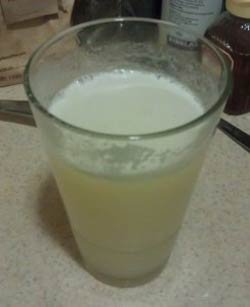 Rob lives on a carefully-constructed drink, containing all essential nutrients, which he calls "Soylent."

Rob Rhinehart tells us:
Food is the fossil fuel of human energy. It is an enormous market full of waste, regulation, and biased allocation with serious geo-political implications. And we're deeply dependent on it. In some countries people are dying of obesity, others starvation. In my own life I resented the time, money, and effort the purchase, preparation, consumption, and clean-up of food was consuming. I am pretty young, generally in good health, and remain physically and mentally active. I don't want to lose weight. I want to maintain it and spend less energy getting energy.

I hypothesized that the body doesn't need food itself, merely the chemicals and elements it contains. So, I resolved to embark on an experiment. What if I consumed only the raw ingredients the body uses for energy? Would I be healthier or do we need all the other stuff that's in traditional food? If it does work, what would it feel like to have a perfectly balanced diet? I just want to be in good health and spend as little time and money on food as possible.

I haven't eaten a bite of food in 30 days, and it's changed my life.
————————————
And what exactly is in Soylent? Rob isn't telling. He's afraid it might not suit your metabolism. You might croak on a diet of the stuff, and your survivors might sue him. But, he is offering to send you a free supply, if you get medically tested before and after trying his diet and then inform him of your results. link
It seems to me that a clever fellow could synthesize the same sort of thing just as well or, dare I say it? even better than good old Rob. For instance, I bet a little vodka would help a lot…. (sound of loud, echoing manaical laughter coming from the laboratory)
02 Sep 2006

AP reports:
George Johnson, considered California's oldest living person at 112 and the state's last surviving World War I veteran, had experts shaking their heads over his junk food diet.

"He had terrible bad habits. He had a diet largely of sausages and waffles," Dr. L. Stephen Coles, founder of the Gerontology Research Group at the University of California, Los Angeles, said Friday.

The 5-foot-7, 140-pound Johnson died of pneumonia Wednesday at his Richmond home in Northern California.

"A lot of people think or imagine that your good habits and bad habits contribute to your longevity," Coles said. "But we often find it is in the genes rather than lifestyle."

Johnson, who was blind and living alone until his 110th birthday when a caregiver began helping him, built the Richmond house by hand in 1935. He got around using a walker in recent years.

Johnson was the only living Californian considered a "supercentenarian," a designation for those ages 110 or older, Coles said. His group is now in the process of validating a Los Angeles candidate who claims to be 112 years old.

Coles participated in an autopsy Thursday that was designed to study Johnson's health.

"All of his organs were extremely youthful. They could have been the organs of someone who was 50 or 60, not 112. Clearly his genes had some secrets," Coles said.

"Everything in his body that we looked at was clean as a whistle, except for his lungs with the pneumonia," Coles said. "He had no heart disease, he had no cancer, no diabetes and no Alzheimer's.
So much for the experts. Have another waffle.