12 Apr 2019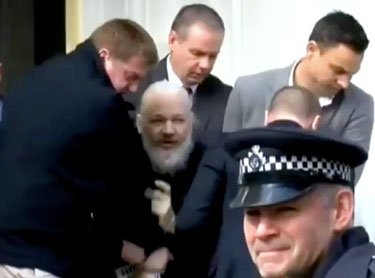 The London Metropolitan Police entered Ecuador's diplomatic base in West London on Thursday morning and took Assange into custody after 9 a.m. local time.

Robinson, Assange's lawyer, said Ecuador's ambassador to the UK told Assange just before the arrest that his asylum had been revoked.

Assange "barged past" police officers who tried to detain Assange at the embassy, and yelled "this is unlawful" while other officers were required to handcuff him, BuzzFeed reported, citing an unnamed US government lawyer.

Video footage later showed a heavily bearded Assange being forcibly removed from the embassy and placed into a police van.
——————–
Just coincidence?
AFP:
The International Monetary Fund on Monday approved a $4.2-billion, three-year loan for Ecuador, part of a broader aid package to help support the government's economic reform program.

The Washington-based lender agreed to the terms of the financing late last month, and the final approval of the IMF board on Monday releases the first installment of $652-million.

IMF Managing Director Christine Lagarde said the aid will support the government's efforts to shore up its finances, including a wage "realignment," gradual lowering of fuel subsidies, and reduction of public debt.

"The savings generated by these measures will allow for an increase in social assistance spending over the course of the program," Lagarde said in a statement, stressing that "Protecting the poor and most vulnerable segments in society is a key objective" of the program.

Quito is expected to receive another $6-billion from the Development Bank of Latin America, the Inter-American Development Bank, the World Bank and the Latin American Reserve Fund.