17 Jul 2020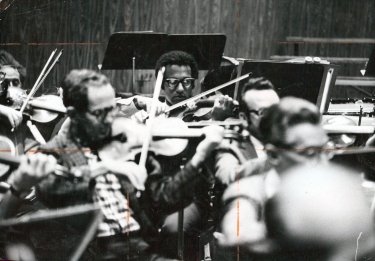 NYT Classical Music Critic Anthony Tommasini says "ensembles [need] to reflect the communities they serve, [and] the [hiring] audition process [for musicians] should take into account race, gender and other factors."
During the tumultuous summer of 1969, two Black musicians accused the New York Philharmonic of discrimination. Earl Madison, a cellist, and J. Arthur Davis, a bassist, said they had been rejected for positions because of their race.

The city's Commission on Human Rights decided against the musicians, but found that aspects of the orchestra's hiring system, especially regarding substitute and extra players, functioned as an old boys' network and were discriminatory. The ruling helped prod American orchestras, finally, to try and deal with the biases that had kept them overwhelmingly white and male. The Philharmonic, and many other ensembles, began to hold auditions behind a screen, so that factors like race and gender wouldn't influence strictly musical appraisals.

Blind auditions, as they became known, proved transformative. The percentage of women in orchestras, which hovered under 6 percent in 1970, grew. Today, women make up a third of the Boston Symphony Orchestra, and they are half the New York Philharmonic. Blind auditions changed the face of American orchestras.

But not enough.

American orchestras remain among the nation's least racially diverse institutions, especially in regard to Black and Latino artists. In a 2014 study, only 1.8 percent of the players in top ensembles were Black; just 2.5 percent were Latino. At the time of the Philharmonic's 1969 discrimination case, it had one Black player, the first it ever hired: Sanford Allen, a violinist. Today, in a city that is a quarter Black, just one out of 106 full-time players is Black: Anthony McGill, the principal clarinet.

The status quo is not working. If things are to change, ensembles must be able to take proactive steps to address the appalling racial imbalance that remains in their ranks. Blind auditions are no longer tenable.
Can there be any notion more preposterous, more incapable of surviving intellectual scrutiny, than today's liberal shibboleth of "Diversity"?
Diversity requires abandonment of standards of merit, achievement, and genuine equality of opportunity, accompanied by lots of rationalizations, denial, and outright lying about what is needed to produce sufficient representation of members of various privileged victim identity groups. Note how Mr. Tommasini assures NYT readers that there is
remarkably little difference between players at the top tier. There is an athletic component to playing an instrument, and as with sprinters, gymnasts and tennis pros, the basic level of technical skill among American instrumentalists has steadily risen. A typical orchestral audition might end up attracting dozens of people who are essentially indistinguishable in their musicianship and technique.
But this begs the question: are there actually many representatives of underclass minorities in that "top tier"? Obviously, there are not, because, if there were, then blind auditions would work to achieve their hiring just fine.
Mr. Tommasini fails also to explain why "diversity" in the sense of more African-Americans in classical orchestras is an urgent problem, while massive over-representation of African-Americans in professional sports is no problem at all.
Why, I often wonder, are blacks, Mexicans and Puerto Ricans, and homosexuals important for "Diversity" but not Finns, Ukrainians, or Belgians? If the answer is that a sob story about past hardships is required, then how come Jews, Appalachian hillbillies, and all those ethnic Catholic blue collar communities count for nothing in the Diversity sweepstakes? Tell us, Mr. Tommasini: what percentage of classical orchestra ensembles are made up of Southern Italians from the Outer Boroughs of New York?
————-
You can imagine what I thought when I looked up Mr. Tommasini and found that he is a Yale classmate of mine.