19 Dec 2019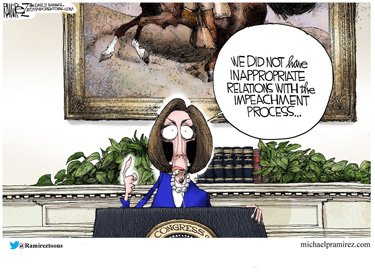 Roger Kimball marvels, as do I.
"τὸ κακὸν δοκεῖν ποτ᾽ ἐσθλὸν τῷδ᾽ ἔμμεν' ὅτῳ φρένας θεὸς ἄγει πρὸς ἄταν" ["Evil appears as good in the minds of those whom god leads to destruction".]
— Sophocles, Antigone, 620-623.
I have to acknowledge that I never thought it would get this far. I didn't think that the instinct of self preservation had been entirely bred out of Democrats. I realize that they have been talking about impeaching Donald Trump from before he took office. Rashida Tlaib really countered the 'crude' Donald Trump when, upon being elected in 2018, she promised 'we're gonna go in there and we're going to impeach the motherfucker'. She seems nice.

I thought that the prospect of the 2020 election would have made the Democrats fold their cards before now and retreat muttering, 'well, anyway, we don't like him'. Yet here we are. If anything has become clear over the past couple of months, it is that the Democrats have no case against the president; there are no crimes alleged, just the emission of a turgid vapor about 'abuse of power' and 'obstruction of Congress'. There was no 'quid pro quo', no 'pressure', no 'abuse of power'. All people with first hand knowledge of the infamous conversation between President Trump and President Zelensky acknowledge this. There was just the president doing the people's business, legitimately exercising his power.

The public is sick, sick, sick of the spectacle. Not the news media, of course: drama sells papers and commercials. But the voters have seen, and seen through, this nakedly partisan folly. We know this in part because of the polls, which have the president riding high, but even more because of the current of feeling — 'incapable of definition', as Edmund Burke said in another context, 'but not impossible to be discerned' — that all cultural barometers are registering. Donald Trump has enjoyed ostentatious success during his first term: the economy, the stock market, the unemployment figures, the vibrant business environment, at long last tearing the albatross of misguided regulation of its neck — all that and more. Indeed, perhaps even more central is the rebirth of patriotic pride that ordinary Americans feel, in their country, and in themselves.

This was a theme that Rep. Jim Jordan stressed in his brief remarks this evening. Donald Trump has been a great success, and the Democrats hate him for it. 'Democrats,' he noted, 'have never accepted the will of the American people'.