22 Apr 2017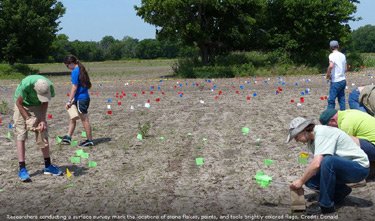 Researchers conducting a surface survey mark the locations of stone flakes, points, and tools brightly colored flags.
The New York Post reports on the discovery in Kansas of a lost 16th century Indian metropolis.
A long lost 16th century civilization has been unearthed in rural Kansas — all thanks to a plucky teen who helped archaeologists confirm the incredible discovery.

The metropolis — where up to 20,000 Wichita Indians once lived — was discovered in Arkansas City, in the south-central part of the state, when a high school boy found a cannon ball that tipped off the experts that their long-held suspicions about the existence of Etzanoa were correct, the Kansas City Star reported.

The city, whose name means "The Great Settlement," is believed to be the second-largest Native American city in the US and was the site of a battle between Spanish explorers and Indian warriors in 1601.

"The Spaniards were amazed by the size of Etzanoa," according to Donald Blakeslee, a 73-year-old Wichita State University archaeologist, who announced the discovery.

"They counted 2,000 houses that could hold 10 people each. They said it would take two or three days to walk through it all," said Blakeslee, adding that the patch of land spans thousands of acres.

For years, he and other scientists hunted for the fabled city. They dug up pottery, knives and flint tools and toiled over clues that would link it to records from Spanish explorers — but couldn't confirm that it was Etzanoa.

Then last year, Adam Ziegler, who attends a nearby high school, discovered a half-inch iron cannon ball — linking it to the 1601 battle, according to Blakeslee.

During the combat, Spaniards fired cannons at Wichita Nation Indian warriors, who eventually fled the city.