21 Jan 2015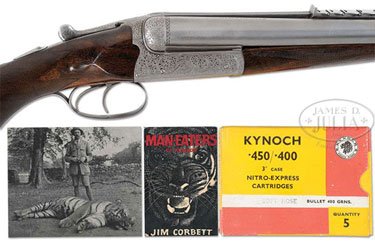 Jim Corbett's the best quality boxlock W.J. Jeffery & Co. .450-400 double rifle, with which he killed so many man-eating tigers for the Indian government (Elmer Keith Estate Coll.).
Jim Corbett described using that .450/400 Jeffrey to slay the Thak Man-Eater at about 6:00pm on November 30, 1938, in "Man-Eaters of Kumaon":
The tigress was now so close that I could hear the intake of her breath each time before she called, and as she again filled her lungs, I did the same with mine, and we called simultaneously. The effect was startingly instantaneous. Without a second's hesitation she came tramping and then she stepped right out into the open, and, looking into my face, stopped dead. Owing to the nearness of the tigress, and the fading light, all that I could see of her was her head. My first bullet caught her under the right eye and the second, fired more by accident than with intent, took her in the throat and she came to rest with her nose against the rock. The recoil from the right barrel loosened my hold on the rock and knocked me off the ledge, and the recoil from the left barrel, fired while I was in the air, brought the rifle up in violent contact with my jaw and sent me heels over head right on top of the men and goats. Once again I take my hat off to those four men for, not knowing but what the tigress was going to land on them next, they caught me as I fell and saved me from injury and my rifle from being broken."
This was the last man-eater killed by Corbett.
—————————-
Elmer Keith died in 1984 and now, thirty years later, the famous writer's personal firearms collection is finally appearing for sale in James D. Julia's March 15th, 16th & 17th Firearms Auction.
Not many of us will be able to afford to own any of the highlights of the Keith Collection, but it's certainly worth looking at the on-line catalog and imagining what you'd do if you won the Irish Sweepstakes in time to bid.
Here are two examples, either of which would be very difficult to top for historical significance and associations.
Hamilton Bowen will build you an unengraved replica (on a Ruger action) of Elmer Keith's No. 5 .44 Special SA for a mere $4495.00. How high can the original possibly go? Six figures would not surprise me.
————————————–

"The most influential custom handgun ever made!" Elmer Keith's own No. 5 Colt SA in .44 Special built in 1927 as "the last word in sixguns."