06 Aug 2022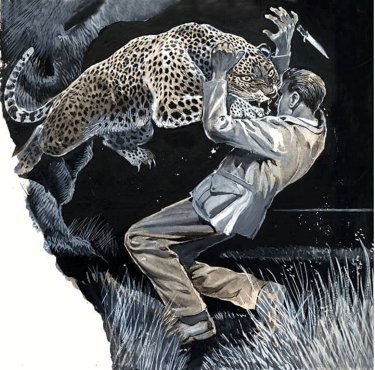 In the London Spectator, Neil Clark defies contemporary political correctness by recommending the classic hunting books of maneater-eliminator par excellence Jim Corbett.
I was reminded of Corbett and his wonderful books when reading last week that human-assaulting tigers are once again on the prowl in Nepal, with 104 attacks and 62 people killed in the past three years. Conservation efforts have seen tiger numbers rise three-fold since 2010, but with that good news comes the bad news of increased danger to humans. In March a tiger believed to have killed five people was captured in western Nepal. Meanwhile in India, a tigress apparently responsible for two deaths was captured in June.

So the man-eaters are back, though the terror from the current wave does thankfully seem less than in the days of Corbett. 'No curfew order has ever been more strictly enforced, and more implicitly obeyed, than the curfew imposed by the man-eating leopard of Rudraprayag,' he wrote. During the hours of daylight, life continued more or less as normal. But at night, 'an ominous silence brooded over the whole area'. Little wonder. For eight long years, between 1918 and 1926, the 50,000 inhabitants of Garhwal in the United Provinces of northern India, and the 60,000 Hindu pilgrims who passed through the district annually on their way to the ancient shrines at Kedarnath and Badrinath, lived in fear of the ferocious big cat that claimed the lives of 125 people.

One of the victims was a 14-year-old orphan employed to look after a flock of 40 goats. He slept with the goats in a small room. But even though the door was fastened by a piece of wood, the leopard got in, killed the poor boy and then carried him off to a deep, rocky ravine where he devoured him. The goats were left completely unscathed. A shocking story, and there are plenty more like it, but don't worry – we can be sure that our hero Jim will ultimately stop the leopard's reign of terror.

I first encountered Corbett's three-volume Man-Eater series in childhood. We had copies of his books in my school library back in the mid-1970s and they were always among the most popular to borrow.

Goodness me, how those hardback editions with their pictures of snarling big cats on the cover captured our imaginations and broadened our horizons. Corbett was a great writer – 'dramatic yet reflective' to quote the OUP's omnibus edition of his works – who brought the Indian Himalayas of the early 20th century vividly to life with his understated, descriptive prose.

For much of the post-war era his books on hunting the man-eating Bengal tigers and leopards of the Raj were hugely successful. More than four million copies of Man-Eaters of Kumaon had been sold worldwide by 1980. The BBC made a television version six years later. But one worries that in the 21st century, Corbett's work is not read anything like so widely, particularly by children who would gain so much from his incredibly exciting tales.

Yes, the books involve hunting, which is now very un-PC – but it's the hunting of bloodthirsty beasts which had claimed more than 1,500 lives between them. And aside from that, there is so much we can learn about life from Corbett's writing.
Jim Corbett's accounts of tracking down man-eating leopards and tigers have some pretty scary moments. I remember one scene in which Corbett is bending down in a gully examining the pugmarks of the tiger he is tracking and bits of dirt begin falling on his head. Corbett was not the only one hunting, it turns out, and his adversary is right above him.
Amazon's Jim Corbett page.