25 Nov 2012


Old Dominion Masters Douglas Wise and Gus Forbush in front of Henchman's Lea announcing the beginning of the hunt and identifying the leadership of the various fields of riders.
——————————————–
We've been having a balmy Fall hunting season up until yesterday. The previous night a front rolled in dropping the temperature 20 degrees and bringing biting winds.
Nonetheless, an exceptionally large field turned out for the Saturday meet at Henchman's Lea, doubtless motivated in part by the lavish hospitality of the hosts manifested at a Lucullan post-hunt breakfast.
Watch Karen's photography site for the eventual appearance of a full photoessay devoted to this particular hunting day.
——————————————–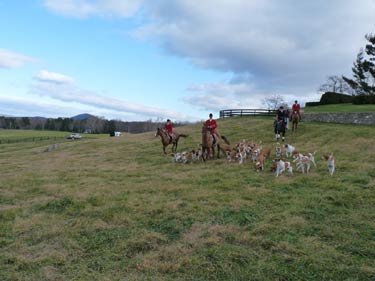 Huntsman Gerald Keal leads the Old Dominion Hounds out to hunt.