Category Archive 'Ruth Bader Ginsburg'
20 Sep 2020

20 Sep 2020

04 Feb 2017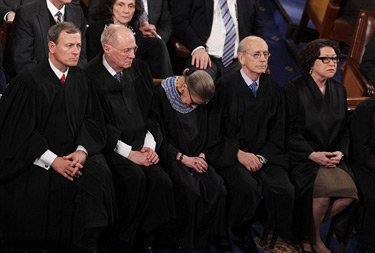 Ruth Bader Ginsburg nods off during event.
SFGate reports that lefties are panicking. Trump's first Supreme Court appointment will be nearly impossible to oppose succcessfully, and Ruth Bader Ginsburg is 83 and a survivor of two forms of cancer. Gorsuch on the Court restores the 4 liberals, 4 conservatives, and Anthony Kennedy who can go either way status quo prevailing prior to the death of Antonin Scalia. One more conservative and Roe v. Wade might be in trouble.
On Tuesday evening, President Donald Trump nominated Neil Gorsuch for deceased Supreme Court Justice Antonin Scalia's long-empty seat. On Wednesday morning, liberals woke up, did the math and realized it was time to be concerned about Ruth Bader Ginsburg's fiber intake. Also bone density. Also exposure to airborne viruses (Madame Justice, what is your flu shot status?), and salmonella, and slippery ice, and also: Has anyone heard how scientists are coming along with a Zika vaccine?

"I'm very interested in this." says Jeanette Bavwidinski, a community organizer in Pennsylvania. "I'm interested in what her daily regimen is. Like, what are you all feeding RBG? Is she getting enough fresh air? Is she walking? Is she staying low-stress? What is she reading? Is she reading low-stress things?"

"Can she eat more kale?" asks Kim Landsbergen, a forest ecologist in Ohio. "Eat more kale, that's all I can say. We love you. Eat more kale.

The facts in play: Ginsburg is 83 years old, the oldest justice by more than three years. She is one of the four reliably liberal jurists on the Supreme Court, and a mascot and hero to the left. There is one swing vote on the court, Anthony M. Kennedy, and there are three staunch conservatives. Adding Gorsuch would maintain the balance that existed when Scalia was alive: conservative replacing conservative.

But what if Ginsburg retires? What if Ginsburg gets sick and needs a leave of absence? What if Trump ends up replacing Ginsburg? In a week that has seen a relentless churn of White House news, liberal residents of the nation funneled their worst fears into a tiny, elderly woman.

"I kept thinking, you know, I could organize a bunch of gays," says John Hagner, a consultant for Democratic campaigns who lives in Washington. "I could organize the gays, and we would just make a protective circle around her at all times. We could help her get up and down the stairs. We got this."

With a rainbow phalanx protecting the justice against potential slips and falls, Hagner would then feel free to turn his attention away from external dangers, and toward microbial pathogens. "At that point," he says, "what I'm mostly concerned about is the cancer. Is she getting her checkups? Do her doctors realize how important it is for her to get her checkups? Do they? The woman is 98 pounds."

Ginsburg, appointed to the bench 23 years ago, has the endurance of a "Law & Order" franchise, but there are those YouTube clips of her nodding off during the State of the Union address, and she has already survived both colon and pancreatic cancer (a death sentence to many, though Ginsburg was back at work two weeks after surgery). And there are those people who remain furious that she didn't step down during Barack Obama's presidency: "Looking back, it was seriously dumb (and, frankly, selfish) of Ruth Bader Ginsburg and Stephen Breyer not to retire from #SCOTUS in 2013," fumed a user on Twitter shortly after the Gorsuch announcement.

But! Bygones. Now was the time for liberals to work with the reality they had. Now was the time to channel the energy of thousands of anxious supporters into a solution for the Ruth Bader Ginsburg problem.

"I was just talking to a friend about this," says Michael J. McClure, an associate professor of art history at the University of Wisconsin. "Like, what could we do? What could we do to help Ruth Bader Ginsburg? Could we protect her with packing peanuts? Then it turned into, 'I need to become a vampire. Like in 'Twilight.' I need to become a vampire so I can make her a vampire with eternal life.' If I'm damned to eternal life myself, so be it. It's a sacrifice worth making."
Read the whole thing.