01 Feb 2021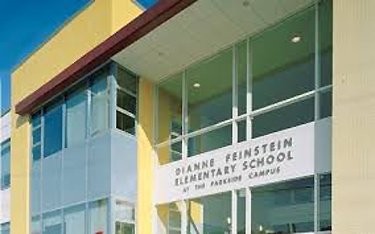 My father used to say: "The continent slopes, and all the fruits and nuts roll out to California." And there, they wind up in public offices, like the school board of San Francisco which recently decided it needs to rename 44 schools on the basis of bizarre leftist grievances and animosities. Dianne Feinstein is not left-wing enough? What did Robert Louis Stevenson ever do? Was he guilty of stereotyping pirates?
SF Chronicle (behind paywall, therefore outline):
The names of presidents, conquistadors, authors and even a current U.S. senator will be removed from 44 San Francisco school sites after the city's school board Tuesday deemed the iconic figures unworthy of the honor.

The 6-1 vote followed months of controversy, with officials, parents, students and alumni at odds over whether Abraham Lincoln and George Washington high schools, Dianne Feinstein Elementary and dozens of others needed new names with no connection to slavery, oppression, racism or similar criteria.

Critics called the process slapdash, with little to no input from historians and a lack of information on the basis for each recommendation. In one instance, the committee didn't know whether Roosevelt Middle School was named after Theodore or Franklin Delano.

"I must admit there are reasons to support this resolution, but I can't," said community member Jean Barish, who said the process has been flawed and based on emotion rather than expertise. "These are not decisions that should be made in haste."

School board members, however, have insisted that the renaming is timely and important, given the country's reckoning with a racist past. They have argued the district is capable of pursuing multiple priorities at the same time, responding to critics who say more pressing issues deserve attention.

The San Francisco school board voted to change the following school names:

Balboa High School, Spanish explorer Vasco Nunez de Balboa

Abraham Lincoln High School, U.S. president

Mission High School, Mission Dolores

George Washington High School, first U.S. president

Lowell High School, poet/critic James R. Lowell

James Denman Middle School, founder of first S.F. school

Everett Middle School, Edward Everett, American statesman

Herbert Hoover Middle School, U.S. president

James Lick Middle School, land baron

Presidio Middle School, S.F. military post

Roosevelt Middle School, Theodore or F.D., both U.S. presidents

Lawton K-8, U.S. Army officer Henry Ware Lawton

Claire Lilienthal (two sites), S.F. school board member

Paul Revere K-8, American Revolution patriot

Alamo Elementary, a poplar tree or the site of Texas Revolution battle

Alvarado Elementary, Pedro de Alvarado, conquistador

Bryant Elementary, author Edwin Bryant

Clarendon Elementary Second Community and Japanese Bilingual Bicultural Program, Edward Hyde, Earl of Clarendon, English politician

El Dorado Elementary, mythical City of Gold

Dianne Feinstein Elementary, U.S. senator and former S.F. mayor

Garfield Elementary, James Garfield, U.S. president

Grattan Elementary, William Henry Grattan, Irish author

Jefferson Elementary, Thomas Jefferson, U.S. president

Francis Scott Key Elementary, composer of "Star Spangled Banner"

Frank McCoppin Elementary, S.F. mayor

McKinley Elementary, William McKinley, U.S. president

Marshall Elementary, James Wilson Marshall, sawmill worker at Sutter's Mill

Monroe Elementary, James Monroe, U.S. president

John Muir Elementary, naturalist

Jose Ortega Elementary, Spanish colonizer

Sanchez Elementary, Jose Bernardo Sanchez, Spanish missionary

Junipero Serra Elementary, Spanish priest

Sheridan Elementary, Gen. Philip Sheridan

Sherman Elementary, Gen. William Tecumseh Sherman

Commodore Sloat Elementary, John Sloat, Navy officer

Robert Louis Stevenson Elementary, author

Sutro Elementary, Adolph Sutro, S.F. mayor

Ulloa Elementary, Don Antonio de Ulloa, Spanish general

Daniel Webster Elementary, U.S. statesman

Noriega Early Education School, unclear

Presidio EES, S.F. military post

Stockton EES, Robert F. Stockton, Navy commodore
——————
This Breitbart story demonstrates that the SF school board looney tunes were frequently confused or misinformed, but were sufficiently self-infatuated and intoxicated with power that they didn't care.