03 Oct 2011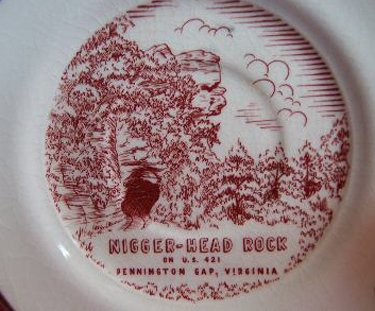 The bottom of an antique souvenir saucer presents the image of similarly named topographic feature in Virginia.
The Washington Post set some new sort of record for opportunistic associative campaign smear reporting, by proceeding to headline a story informing its readers at length that Rick Perry hunted deer and entertained guests at hunting camps belonging to family and friends located in rural spot, known locally decades ago as "N-word-head."
Wikipedia identifies the origin of such toponyms and mentions their date of extinction on official US maps.
In several English-speaking countries, Niggerhead or nigger head is a former name for several things thought to resemble a black person ("nigger")'s head.
The term was once widely used for all sorts of things, including products such as soap and chewing tobacco, but most often for geographic features such as hills and rocks.[citation needed] In the U.S., more than hundred "Niggerheads" and other place names now considered racially offensive were changed in 1962 by the U.S. Board on Geographic Names.
Nor did "N-word-head" survive as the name of the area in which the Perry and Reed families' hunting camps were sited. At some unknown point in the past, again decades ago, someone unknown removed and painted over the sign once identifying a rural Texas location by that name.
The Post obviously had no reason to believe that either Rick Perry, or any member of his family, had named the area "N-word-head." The Post had no reason to believe that Rick Perry, or any member of his family, had erected a sign consisting of a rock with the "N-word-head" name painted on it. The Post had no reason to attribute any kind of meaningful responsibility for the existence or use in the distant past of that toponymic expression to Rick Perry at all. But associating a conservative Republican presidential candidate with the N-word, even so tangentially, is a way of flinging a big handful of mud at him, and who knows? Some of it might get into some voters' heads and actually stick.
As an example of political opposition politics, or of journalism, this kind of thing is about as unethical, low, underhanded, cowardly, and despicable as you can try to get away with. I notice that the reptiles and invertebrates that wrote this contemptible story did not even sign their names to it, and I'm not surprised.
—————————-
Herman Cain dramatically diminished my liking and respect for his candidacy yesterday by jumping right in and trying to make hay by using this bilge. Screw him.